Women's Rugby Club
If you want to work hard and play hard then Women's Rugby is for you
The University of Portsmouth Women's Rugby Club love to break stereotypes. If you want to work hard and play hard then we are the team for you. If you're an experienced rugby player or just fancy trying something new, we are a family of girls that enjoy keeping fit, breaking boundaries and having fun.
Club membership - 2023/24
You can join our club for the 2023/24 academic year for;
Exact membership details and training times TBC.
Weekly Schedule
Training Sessions at HMS Temeraire
Monday 6.00pm-7.30pm
Friday 6.30pm-8.00pm
Fixtures
BUCS fixtures take place against other university teams on Wednesday afternoons.
Memberships to join our clubs for the 22/23 year are now open. Please note: for some clubs you would have needed to attend trials before purchasing a membership.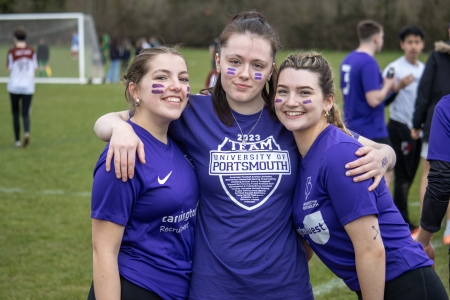 Play Memberships
Lots of our clubs offer Play Memberships, a more casual way to play without committing to a year membership. Most Play Memberships are £65 for the academic year (with some exceptions).
The sports included are:
LGBTQ+ sports club guidance
We welcome all students to take part in non-competitive sports and we recognise the health and wellbeing benefits of being active. Competitive sports are bound by specific policies governed by the sport's National Governing Body which may be less inclusive. Please find below inclusion guidance for our club.
Mixed-gender Club
Trans-gender Club
Non-binary Club
Gender-queer Club
No
No
Partially
Partially
World Rugby does not allow participation in women's rugby by transgender individuals. Non-binary, genderqueer and gender-fluid individuals can compete for their assigned gender at birth. All individuals can take part in Campus League Touch Rugby.
Play: Women's Rugby does not participate in our Play programme.
Train: Partially Inclusive - individuals would have to train for competitions linked to their assigned gender at birth.
Compete: Partially Inclusive - individuals would have to participate in competitions linked to their assigned gender at birth.
Campus sport touch rugby: Any individual of any gender or under the transgender umbrella is able to take part in our Campus Sport Touch Rugby League. Please visit our Campus Sport page for more information.
Check out the full guidance on World Rugby.