Fencing club
We provide a great atmosphere for people that love to fence and like to get a little competitive
The University of Portsmouth Fencing Club provides a great atmosphere for people that love to fence and like to get a little competitive, it is a great way to meet new people and socialise with the other members. We welcome players of all abilities, and run weekly training sessions which are available to everyone.
Club membership - 2023/24
You can join our club for the 2023/24 academic year for;
Development: £95
Play: £65
Exact membership details and training times TBC.
Training Sessions at St. Paul's Sports Hall
Monday 8.00pm-10.00pm
Tuesday 8.00pm-10.00pm
Sunday 1.00pm-3.00pm
Competitions
Regular competitions against other university clubs, hosted in Ravelin Sports Centre and visiting other universities.
Memberships to join our clubs for the 23/24 year are now open. Please note: for some clubs you need to attend trials before purchasing a membership. Contact the club for more information.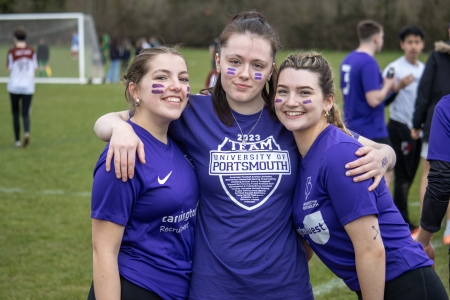 Play Memberships
Lots of our clubs offer Play Memberships, a more casual way to play without committing to a year membership. Most Play Memberships are £65 for the academic year (with some exceptions).
The sports included are:
LGBTQ+ sports club guidance
We welcome all students to take part in non-competitive sports and we recognise the health and wellbeing benefits of being active. Competitive sports are bound by specific policies governed by the sport's National Governing Body which may be less inclusive. Please find below inclusion guidance for our club.
Mixed-gender Club
Trans-gender Club
Non-binary Club
Gender-queer Club
Yes
Partially
Partially
Partially
Fencing currently does not compete in BUCS. Under British Fencing policy, those who transition from female to male can compete in the male category with no restriction. Those who transition from male to female are eligible to compete under certain conditions laid out in the British Fencing transgender policy.
Play: Yes - anyone can take part in our Play sessions if you hold the relevant membership.
Train: Fully Inclusive
Compete: Inclusivity dependant - the club do not compete in BUCS, however, they compete in other competitions throughout the year which may be subject to British Fencing policies.
Check out the full guidance on britishfencing.co.uk.