Sailing club
We sail locally as well as nationwide, offering a great opportunity to travel
UPSC sail dinghies and yachts and both are open to people of all abilities, whether you are an experienced racer or a complete beginner. We see Portsmouth differently from most sports clubs, we look at it from the water. We're a friendly club, joining is a great way to make friends and come along to our amazing socials. We sail locally as well as nationwide so you have an opportunity to travel to some great locations with a great bunch of people. Keep an eye on our website and social media pages for details on our upcoming sessions. Membership to the club offers the opportunity to get involved, travel and competitions are an additional charge.
Our club is inclusive to all individuals regardless of their sailing ability, gender or sexuality. 
There are opportunities for all individuals to represent UPSC in BUCS competitions.
We welcome everyone to our socials, events, yacht weekends & sailing ability.
Dinghy sailing
We have a fleet of six Fireflies that we sail from Spinnaker Sailing Club for weekly team training. Social sailing happens from Old Portsmouth, Portsmouth Sailing Club, where beginners are welcome.
Simply pay the club membership fee for the year, and then safety boat fuel costs whenever you decide to go out on the water.
More experienced sailors can enjoy intermediate social sessions, take part in the annual frostbite series, or try out for our dinghy team.
Our dinghy team regularly attends events all over the country, including the BUSA Fleet racing nationals and the BUSA team racing qualifiers where we have often qualified for the national BUSA team racing finals.
Yacht sailing
If you'd rather sail something a bit bigger we charter 36ft - 39ft yachts and regularly sail all over the Solent as part of the yacht team or our social yacht weekends. Every year we also go on our "Summer Sail Week" and sail chartered yachts in the Mediterranean. It's a great way to travel a bit with like minded people during the summer.
For Yacht Team racing we enter BUSA Yacht Nationals, which is often hosted in the Solent, local to Portsmouth.
2022/23 Memberships
Compete Semester 2: £100 (includes training, transport, equipment, coaching and fixtures)
Club Semester 2: £45 (no fixtures)
Training sessions
Wednesday 12.00pm - 4.00pm: Team Training - Spinnaker Sailing Club
Weekends various times: Beginner and Intermediate sessions
Competitions
Weekend competitions will take place throughout the course of the year at various locations. 
Memberships to join our clubs for the 22/23 year are now open. Please note: for some clubs you would have needed to attend trials before purchasing a membership.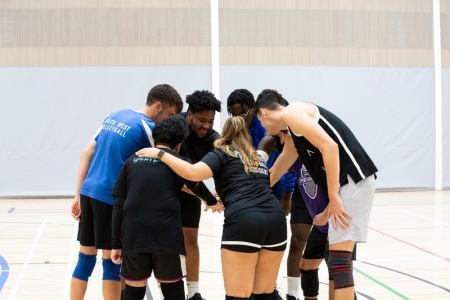 PLAY Sessions
Lots of our clubs offer PLAY sessions, a more casual way to play without committing to a year membership. PLAY sessions are included with your Ravelin Sports Centre membership!
The sports included are:
Badminton
Basketball
Boxing
Cricket
Dance
Dodgeball
Fencing
Handball
Softball
Squash
Swimming
Taekwondo and Karate
Trampolining
Ultimate Frisbee
Volleyball
Water Polo