Ultimate Frisbee Club
Discover this fast paced, non-contact sport played indoors or outdoors with a weighted frisbee
The Ultimate Frisbee Club is an exciting and sociable club to be a part of. It is a fast paced, non-contact sport played indoors or outdoors with a weighted Frisbee. The club was formed in 1997 and is full of passionate members ranging in experience throughout the team. It is a great opportunity to try something new and compete for the university, whilst making friends along the way.
Club membership - 2023/24
You can join our club for the 2023/24 academic year for £65, this includes access to our weekly social training sessions at Ravelin Sports Centre.
Weekly sessions
Friday 4.00pm - 6.00pm at Ravelin Sports Centre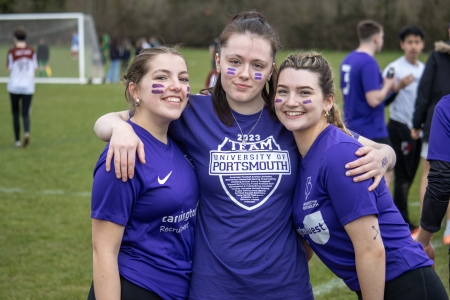 Play Memberships
Lots of our clubs offer Play Memberships, a more casual way to play without committing to a year membership. Most Play Memberships are £65 for the academic year (with some exceptions).
The sports included are:
LGBTQ+ sports club guidance
We welcome all students to take part in non-competitive sports and we recognise the health and wellbeing benefits of being active. Competitive sports are bound by specific policies governed by the sport's National Governing Body which may be less inclusive. Please find below inclusion guidance for our club.
Mixed-gender Club
Trans-gender Club
Non-binary Club
Gender-queer Club
Yes
Yes
Yes
Yes
Currently Ultimate Frisbee are not an official sports club. There is no membership fee and the club solely participates in our Play Programme. Anyone can take part in the Ultimate Frisbee Play Programme regardless of how they identify.
Play: Yes - anyone can take part in our Play sessions if you hold the relevant membership.
Memberships to join our clubs for the 23/24 year are now open. Please note: for some clubs you need to attend trials before purchasing a membership. Contact the club for more information.