Dance Club
Dance Club features Jazz, Contemporary, Hip Hop, Ballet and Tap squads
The Dance Club offers different memberships for those who want to dance competitively at national competitions, or to perform at dance events (including Sportos' Dance Off - one of Team UOP's biggest charity events), or to simply come to our weekly play classes for a bit of fun!
The styles we offer across the different memberships are Ballet, Tap, Jazz, Contemporary and Hip Hop. We also offer varied classes which introduce to different styles of dance we wouldn't usually do. The Dance Club holds the title of RAG club of the year for 2021, 2022 & 2023!
Follow us on TikTok here.
Club membership - 2023/24
You can join our club for the 2023/24 academic year for;
Compete/Perform: £145
Development: £95
Exact membership details and training times TBC.
Training Sessions at Ravelin Sports Centre
Tuesday:

7:30-8:30pm - Jazz Competition Squad
8:30-9:30pm - Hip Hop Competition Squad
9:30-10:30pm - Tap Competition Squad 

Wednesday:

2:00-3:00pm - Ballet Performance Squad
2:00-3:00pm - Tap Performance Squad
3:00-3:45pm - Contemporary Play
3:00-3:45pm - Jazz Play
3:45-4:30pm - Hip Hop Play
3:45-4:30pm - Varied Play 

Thursday:

8:00-9:30pm - Strength & Conditioning
8:30-9:30pm - Contemporary Performance Squad
9:30-10:30pm - Hip Hop Performance Squad
9:30-10:30pm - Ballet Competition Squad

Friday:

7:00-8:00pm - Jazz Performance Squad
8:00-9:00pm - Contemporary Competition Squad
9:00-10:30pm - Wildcard Competition Squad
Competitions
Competitions will take place at various locations throughout the year.
Memberships to join our clubs for the 23/24 year are now open. Please note: for some clubs you need to attend trials before purchasing a membership. Contact the club for more information.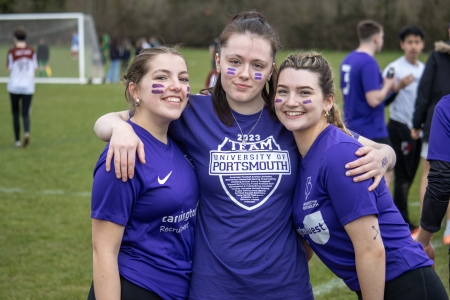 Play Memberships
Lots of our clubs offer Play Memberships, a more casual way to play without committing to a year membership. Most Play Memberships are £65 for the academic year (with some exceptions).
The sports included are:
LGBTQ+ sports club guidance
We welcome all students to take part in non-competitive sports and we recognise the health and wellbeing benefits of being active. Competitive sports are bound by specific policies governed by the sport's National Governing Body which may be less inclusive. Please find below inclusion guidance for our club.
| Mixed-gender Club | Trans-gender Club | Non-binary Club | Gender-queer Club |
| --- | --- | --- | --- |
| Yes | Yes | Yes | Yes |
Play: Yes - anyone can take part in our Play sessions if you hold the relevant membership.
Train: Fully Inclusive
Compete: Fully Inclusive