Futsal club
The Futsal Club is fun and rewarding and welcomes all abilities
The University of Portsmouth Futsal Club are a fun and rewarding club to be a part of. The club welcomes players of all abilities, with two competitive teams and recreational sessions for those looking to learn new skills, and meet like minded people.
2022/23 Memberships
Compete (Semester 2): £70 (includes training, transport, equipment, coaching and fixtures)
Training Sessions
Tuesday 5.00pm-7.00pm at St Paul's
Thursday 7.30pm-9.00pm (1st Team) at Ravelin Sports Centre
Thursday 9.00pm-10.30pm (2nd and 3rd Teams) at Ravelin Sports Centre
Fixtures
BUCS fixtures take place against other university teams on Wednesday afternoons.

Home games will take place at Ravelin Sports Centre and we will travel to other universities for away matches.
Please contact the club - futsal@port.ac.uk - to request information about joining the club before purchasing a membership.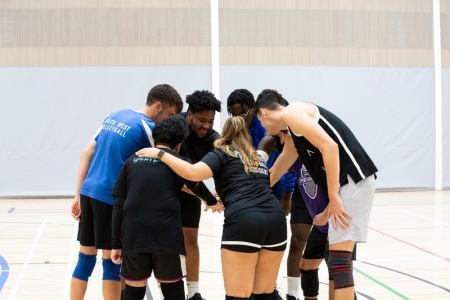 PLAY Sessions
Lots of our clubs offer PLAY sessions, a more casual way to play without committing to a year membership. PLAY sessions are included with your Ravelin Sports Centre membership!
The sports included are:
Badminton
Basketball
Boxing
Cricket
Dance
Dodgeball
Fencing
Handball
Softball
Squash
Swimming
Taekwondo and Karate
Trampolining
Ultimate Frisbee
Volleyball
Water Polo