Handball Club
Handball is a fast-paced indoor sport popular across the world
Handball is a fast-paced, indoor, team sport which is popular across the world. We play and train in St Paul's sports hall twice a week and compete in regular competitions.
Our club won the silver medal in BUCS 20/21 and the silver medal in England Handball 19/20... Join us as we push for gold medals.
Club membership - 22/23
You can join our club for the second half of the academic year for £45, this includes fixtures, travel and training sessions.
Training Sessions at Ravelin Sports Centre
Monday 8.00pm-9.00pm
Wednesday 6.30am-9.00am
Competitions
Regular BUCS competitions against other university clubs, hosted in Ravelin Sports Centre and at other universities.
Memberships to join our clubs for the 22/23 year are now open. Please note: For some clubs you would have needed to attend trials before purchasing a membership.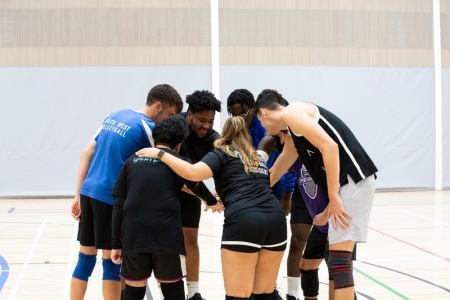 PLAY Sessions
Lots of our clubs offer PLAY sessions, a more casual way to play without committing to a year membership. PLAY sessions are included with your Ravelin Sports Centre membership!
The sports included are:
Badminton
Basketball
Boxing
Cricket
Dance
Dodgeball
Fencing
Handball
Softball
Squash
Swimming
Taekwondo and Karate
Trampolining
Ultimate Frisbee
Volleyball
Water Polo