Basketball club
The Basketball club is a great way to meet new people in fun weekly, social sessions
The University of Portsmouth Basketball Club provides a great atmosphere for people that love the sport and like to get a little competitive, it is great way to meet new people and socialise with the other members. We welcome players of all abilities by having competitive teams in the BUCS leagues and weekly fun, social sessions.
2022/23 Memberships
Compete: £140 (unavailable for Semester 2)
Development: £45 (includes training and equipment)
Training Sessions at Ravelin Sports Centre
Compete
Monday 6.30am-9.00am (Men's 1st and 2nd Team)
Tuesday 6.30am-9.00am (Club Training)
Friday 6.30am-8.30am (Women's Team)
Train
Wednesday 10.00am-12.00pm (Men's 3rd Team)
Fixtures
Wednesday home fixtures will take place at Ravelin Sports Centre and away fixtures will be held at various other universities.
Memberships to join our clubs for the 22/23 year are now open. Please note: Our Compete membership is unavailable for Semester 2 but we are welcoming new members to join our Development/Train teams.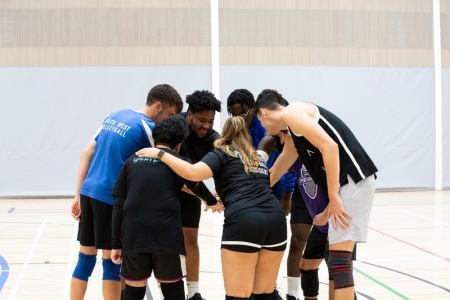 PLAY Sessions
Lots of our clubs offer PLAY sessions, a more casual way to play without committing to a year membership. PLAY sessions are included with your Ravelin Sports Centre membership!
The sports included are:
Badminton
Basketball
Boxing
Cricket
Dance
Dodgeball
Fencing
Handball
Softball
Squash
Swimming
Taekwondo and Karate
Trampolining
Ultimate Frisbee
Volleyball
Water Polo