Men's Football Club
With both competitive and recreational sessions available, there's plenty of reasons why you should join this successful club
The University of Portsmouth Men's Football Club are a successful club who set a new BUCS points record last season and have several clubs pushing for promotion. The club accommodates players of all abilities, with both competitive and recreational sessions available.
Important Notice
Make sure you have a confirmed place on one of our teams before purchasing your membership. 
Club membership - 22/23
You can join our club for the second half of the academic year for £70, this includes fixtures, travel and training sessions.
Training sessions at Langstone Sports Site
Monday 3.00pm-4.30pm (1st and 2nd Team)
Monday 4.30pm-6.00pm (3rd, 4th and 5th Team)
Tuesday 2.00pm-4.00pm (BUCS squad)
Friday 3.00pm-5.00pm (Fitness session)
Fixtures
Wednesday home fixtures will take place at Langstone Sports Site and away fixtures will be held at various other universities.
January 2023 Retrials
We are hosting retrials on January 8th, 2023. Sign up to trial to be selected for a team for the remainder of the season.
Looking for a less competitive option?
Our Campus Sport Leagues could be for you! You can find out more information on our Campus Sport Page.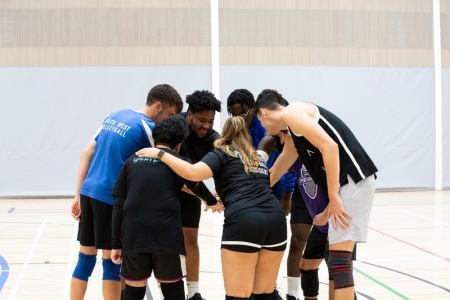 PLAY Sessions
Lots of our clubs offer PLAY sessions, a more casual way to play without committing to a year membership. PLAY sessions are included with your Ravelin Sports Centre membership!
The sports included are:
Badminton
Basketball
Boxing
Cricket
Dance
Dodgeball
Fencing
Handball
Softball
Squash
Swimming
Taekwondo and Karate
Trampolining
Ultimate Frisbee
Volleyball
Water Polo
LGBTQ+ sports club guidance
We welcome all students to take part in non-competitive sports and we recognise the health and wellbeing benefits of being active. Competitive sports are bound by specific policies governed by the sport's National Governing Body which may be less inclusive. Please find below inclusion guidance for our club.
Mixed-gender Club
Trans-gender Club
Non-binary Club
Gender-queer Club
No
Partially
Partially
Partially
A transgender male would have to fund test themselves and meet requirements set out by the Football Association's Transgender policy. Students are encouraged to discuss this with teamuop@port.ac.uk.
Play: Men's Football is not included in the 'Play' programme.
Train: Inclusivity dependant - a transgender male would need to fund test themselves to train as part of an FA registered club.
Compete: Inclusivity dependant - a transgender male would need to fund test themselves to compete as part of an FA registered club.
Campus Sport Football
Any individual of any gender or under the transgender umbrella is able to take part in our Campus Sport Football Leagues please visit our Campus Sport pages for more information.
Coaching
Any individual can apply for coaching openings for our Men's Football Club. The coach does not have to be a cis-male to coach men's football.
Check out the full guidance on theFA.com.