Rowing Club
The Rowing Club offers opportunities to all abilities; from elite athletes to people who have never been in a boat before
The University of Portsmouth Rowing Club offers rowing opportunities to anyone of any experience; from elite athletes to people who have never been in a boat before. As a result we have a variety of different squads within the club which are related to the general skill, experience, fitness and commitment, these range from novice squads – for beginners, up to the senior men and women's squads for the more veteran rowers.
Club membership - 2023/24
You can join our club for the 2023/24 academic year for;
BUCS Compete membership: £210. Includes training and entry to Bristol Head, and entry and transport to BUCS Regatta.
Local Compete: £160. Includes access to training and local competitions
Play: £65. Includes land training sessions
Training sessions
Access different training sessions depending on your membership type.
Land training sessions at Ravelin Sports Centre
Monday: 7.45pm - 9.15pm
Tuesday: 7.00am - 9.00am
Thursday: 6.30pm - 8.00pm
Friday: 7.00am - 9.00am
Water training sessions at Itchen Imperial Rowing Club
Wednesday: 1.00pm - 4.00pm
Saturday: 9.00am - 12.00pm
Sunday: 11.00am - 12.00pm
Competitions
Weekend competitions will take place throughout the course of the year at various locations.
Memberships to join our clubs for the 23/24 year are now open. Please note: for some clubs you need to attend trials before purchasing a membership. Contact the club for more information.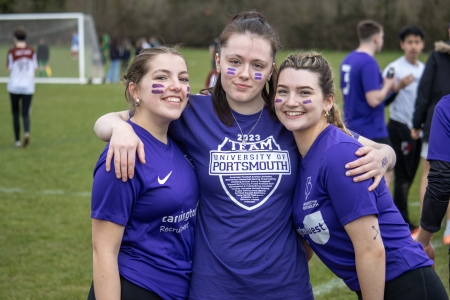 Play Memberships
Lots of our clubs offer Play Memberships, a more casual way to play without committing to a year membership. Most Play Memberships are £65 for the academic year (with some exceptions).
The sports included are:
LGBTQ+ sports club guidance
We welcome all students to take part in non-competitive sports and we recognise the health and wellbeing benefits of being active. Competitive sports are bound by specific policies governed by the sport's National Governing Body which may be less inclusive. Please find below inclusion guidance for our club.
Mixed-gender Club
Trans-gender Club
Non-binary Club
Gender-queer Club
Yes
Partially
Partially
Partially
All students can compete in the open category, any non-conforming student that wishes to compete under the women's category should follow the guidance outlined in the British Rowing Trans and Non-Binary Inclusion Competition Policy and Procedures.
Play: Yes - anyone can take part in our Play sessions if you hold the relevant membership.
Train: Fully Inclusive
Compete: Inclusive - anyone can enter the 'Open' category.
Check out the full guidance on British Rowing.