Swimming Club
The Swimming Club holds multiple sessions throughout the week as well as socials, charity events and more
The University of Portsmouth Swimming Club is one of the biggest sports clubs at the university offering both social and competitive sides. As well as multiple swimming sessions throughout the week we host socials, charity events and other activities.
If you want to be a part of one of the biggest clubs at the University of Portsmouth to make sure you have the best experience, come and join the swim team.
2022/23 Memberships
Compete: £140 (includes training, transport, equipment, coaching and fixtures)
Development: £90 (no fixtures)
Training sessions at Ravelin Sports Centre 
Compete
Monday 6.30am-8.30am
Monday 7.30pm-9.30pm
Tuesday 7.00pm-8.30pm
Wednesday 12.30pm-2.30pm
Friday 6.30am-8.30am
Sunday 7.00pm-9.00pm
Train
Monday 6.30pm-8.30pm
Tuesday 7.00pm-8.30pm
Wednesday 12.30pm-2.30pm
All members - Waterpolo play and train sessions
Competitions
Weekend competitions will take place throughout the course of the year at various locations. 
Please contact the club - swimming@port.ac.uk - to request information about joining the club before purchasing a membership.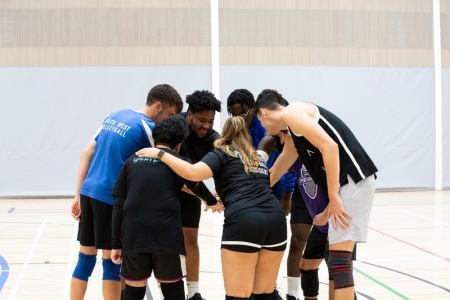 PLAY Sessions
Lots of our clubs offer PLAY sessions, a more casual way to play without committing to a year membership. PLAY sessions are included with your Ravelin Sports Centre membership!
The sports included are:
Badminton
Basketball
Boxing
Cricket
Dance
Dodgeball
Fencing
Handball
Softball
Squash
Swimming
Taekwondo and Karate
Trampolining
Ultimate Frisbee
Volleyball
Water Polo
LGBTQ+ sports club guidance
We welcome all students to take part in non-competitive sports and we recognise the health and wellbeing benefits of being active. Competitive sports are bound by specific policies governed by the sport's National Governing Body which may be less inclusive. Please find below inclusion guidance for our club.
Mixed-gender Club
Trans-gender Club
Non-binary Club
Gender-queer Club
Yes
Partially
Partially
Partially
Swim England has policies in place for each discipline of swimming competitions including indoor swimming, masters swimming and water polo under the Transgender and Non-binary Competition Policy. Any non-gender conforming individual or male can compete in the open category but only assigned-gender females can compete in the Female category. Individuals are encouraged to contact the club and TeamUOP@port.ac.uk to discuss this.
Play: Yes - anyone can take part in our Play sessions if you hold the relevant membership.
Train: Fully Inclusive
Compete: Inclusivity dependant - only assigned-gender females can compete in the Female category.
Check out the full guidance on World Aquatics