Associate membership
If you have links to the university, our associate membership is a great option for you. Come and re-join the community
As an associate of the University of Portsmouth, you are probably familiar with our passion for sport, exercise and health. Just because you no longer study or work with us, doesn't mean that you can't still benefit from our outstanding facilities and dedicated health and fitness team.
Are you an associate?
Our associate memberships are available to you if you are aged 16 or over and fall into any of the below categories:
Graduate or Alumni of the University of Portsmouth (or Portsmouth Polytechnic)
Retired staff member of the University of Portsmouth (or Portsmouth Polytechnic)
Direct family member (must be living with the individual) of a current student/staff member of the University of Portsmouth (or Portsmouth Polytechnic)
Over 60s
Whether you were a member with us before, or if you've never had a gym membership with us, we look forward to welcoming you to the outstanding Ravelin Sports Centre. Our facilities have just got so much better and we are now able offer a much wider range of activities for you to enjoy.
Ravelin Sports Centre
Our memberships were created with flexibility in mind, which is why we offer 3 options, so you can select the activities that suit you, your goals and the ones you will enjoy most. Annual memberships are available at 14 months for the price of 12 and can be purchased in person at reception.
Membership options
CORE
Includes:
Swim (incl. Steam and Sauna)
Simple, straightforward access to our facilities. No joining fees, no long-term contract, great value.
£33.99 per month
Or purchase a 14-month membership for the price of 12 months (£408)
SUPER
Includes:
No joining fees, no long-term contract, simply great value.
£38.99 per month
Or purchase a 14-month membership for the price of 12 months (£468) 
ULTIMATE
All activities included:
Swim (incl. Steam and Sauna)
Discount on courses and bookings
Designated under 16 swimmer included
Our best value membership covering all of our main activities.
£43.99 per month
Or purchase a 14-month membership for the price of 12 months (£527) 
Whichever membership suits you - our great value memberships are perfect. Get started today.
Why you should join us
As an associate of the university, we would be delighted to welcome you back to our community. There are so many gyms scattered across the city, but none of them will give you the feeling of nostalgia, quite like at Ravelin Sports Centre. You'll feel like you've been transported back to your uni days straight away.

If the memories alone weren't enough, our outstanding new sports centre offers a whole range of new facilities. Find out what gives us that edge below.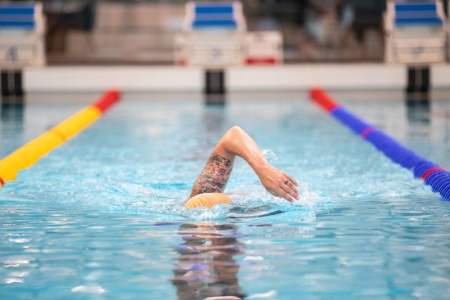 Options included in Ravelin Sports Centre memberships
Unlimited gym use - 175-station gym powered by Technogym, innovation leaders in digital connected fitness.
Swimming pool access - 25 metre eight-lane swimming pool.
Over 100 classes per week - In person and virtual classes including world-renowned Les Mills.
Climbing and bouldering - 10 metre-wide auto-belay wall up to 10.85 metres high and 120 square metres of bouldering.
Squash - Two squash courts separated by a movable wall.
Tennis - Langstone Sports Site is the home to 4 tennis courts.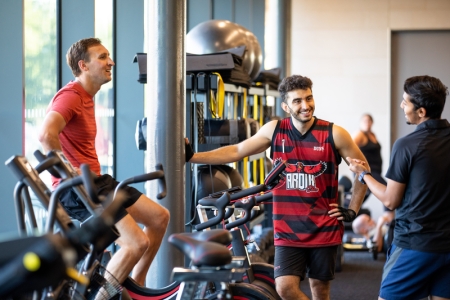 Our memberships
The memberships we offer are incredibly flexible and include all kinds of different activities for you to choose from, so you can keep your workouts varied.

There's no joining fee and no long-term contract, so you can freeze, cancel or change your membership at any time. We also have long opening hours 6.30am to 10.30pm on weekdays and 7.00am to 9.00pm on weekends and bank holidays, so you can fit your workouts around your lifestyle.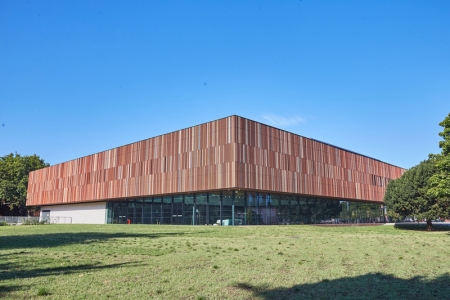 Sustainability
Ravelin Sports Centre will not only provide you with everything you need to stay on track and get the most out of your workouts. It is also one of the most sustainable sports centres in the UK.
This facility has received a top design rating of 'Outstanding' from BREEAM UK.

Pool water is reused for toilet flushing and a new community orchard is part of a sustainable drainage system. A wildflower amphitheatre events space will develop biodiversity in the surrounding areas.
Don't just take our word for it, take a look around
Step into Ravelin Sports Centre and take a walk around our amazing facility with our virtual tour. Visit the gym, studios, changing rooms, sports hall even the steam room and sauna. Once you've had a virtual wall around you'll be set for your first visit.
Now you have all the information, what are you waiting for? Start your fitness journey with us today.
Frequently asked questions
Any evidence of proof of former study – letters or emails are the most common that we receive.
If you consider yourself to be a competent gym user you will not be required to book an induction. However, if you are not a confident gym user you can book a free 1 to 1 gym induction with one of our fitness instructors.
No joining fee, just quick access.
You can freeze your direct debit for a maximum of 6 months. Due to the freeze always starting from the payment date, we require 5 days' notice before your next payment date to freeze your membership. To freeze your membership, please fill out the form at the bottom of our Customer Support page or through the Customer Support button in the UOP Sport app. You can only freeze annual memberships in the event of illness or injury – evidence may be required and is down to the discretion of management.
You can cancel your membership easily - we need to receive your request in writing and 14-days notice to cancel a membership. You can request to cancel your membership easily through our customer support form.
Once you have activated your membership, download our app UOP Sport, use your email and password to log in then you can book classes as you please. If you need help with your password please speak to any member of staff.
Memberships to University sports clubs are only open to University of Portsmouth students.
We don't currently offer a family membership. Our Ultimate memberships do however include one designated under 16 swim whenever you swim, they'll also get a discount on other activities. Your designated under 16 can be assigned to your account on your first visit.
Unfortunately not, we know it's boring, but due to health and safety requirements, we need each individual to sign up to ensure they agree to our health commitment statement, terms, conditions and rules of use as well as confirm gym competency.
Public and associate members will be able to collect either a wristband or an RFID sticker (which can be stuck to your phone) this will give you access to all the areas of the sports centre you need to be able to do the activities you have selected as part of your membership.