Student membership
With a gym that is central to University halls, we offer the cheapest multi activity membership in Portsmouth
Our flexible gym memberships are perfect for your fitness goals this year, whatever happens. With great value for money, opening times that ensure your safety is always paramount, workout with like-minded students, in a facility specifically here for students. Our staff are available throughout our opening times to ensure you'll always have some to talk to, ask questions and offer support. You won't find that in a 24/7 gym. Sign up now for our all-inclusive gym membership for University of Portsmouth students.
Student rates are available to any student aged 16+ in Further or Higher Education.
Ravelin Sports Centre prices
Our memberships were created with flexibility in mind, which is why we offer 3 options, so you can select the activities that suit you, your goals and the ones you will enjoy most. Annual memberships are available at 12 months for the price of 10 and can be purchased in person at reception.
Membership options
CORE
Includes:
Swim (incl. Steam and Sauna)
Simple, straightforward access to our facilities. No joining fees, no long-term contract, great value.
£15.99 per month or
£159 for 12-months
Pay upfront for a 12-month membership and only pay for 10 months 
SUPER
Includes:
Swim (incl. Steam and Sauna)
No joining fees, no long-term contract, simply great value.
£20.99 per month or
£210 for 12-months 
Pay upfront for a 12-month membership and only pay for 10 months 
ULTIMATE
All activities included:
Swim (incl. Steam and Sauna)
Discount on courses and bookings
BUCS Universal - access over 100 gyms nationwide
Designated under 16 swimmer included
Our best-value membership covers all of our main activities.
£23.99 per month or
£239 for 12-months
Pay upfront for a 12-month membership and only pay for 10 months 
Why you should join us
There are so many gyms scattered around the city, but what could be more convenient than one that's a 5-10 minute walk from your lectures and right next to the library. You can squeeze workouts between study sessions and lectures with ease. As well as being extremely practical, Ravelin Sports Centre offers so much more than just a gym membership. You can find out everything we offer below.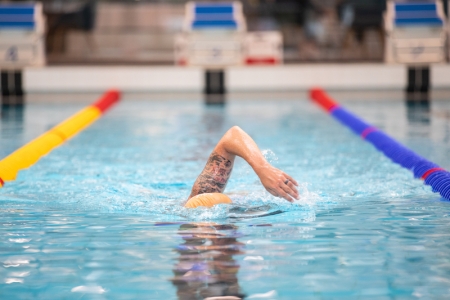 Options included in Ravelin Sports Centre memberships
Unlimited gym use - 175-station gym powered by Technogym, innovation leaders in digital connected fitness.
Swimming pool access - 25 metre eight-lane swimming pool.
Over 100 classes per week - In person and virtual classes including world-renowned Les Mills.
Climbing and bouldering - 10 metre-wide auto-belay wall up to 10.85 metres high and 120 square metres of bouldering.
Squash - Two squash courts separated by a movable wall.
Tennis - Langstone Sports Site is the home to 4 tennis courts.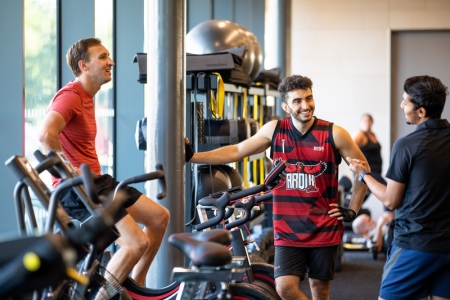 Our memberships
The memberships we offer are incredibly flexible and include all kinds of different activities for you to choose from, so you can keep your workouts varied.

There's no joining fee and no long-term contract, so you can freeze, cancel or change your membership at any time. We also have long opening hours 6.30am to 10.30pm on weekdays and 7.00am to 9.00pm on weekends and bank holidays, so you can fit your workouts around your lifestyle.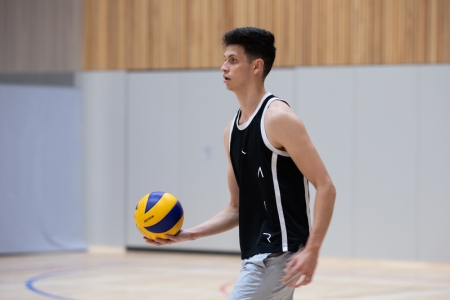 Sports club and PLAY memberships
As a student, you can also join one of our 34 Sports clubs. Sign up for a Sports club or PLAY membership.
Join our sports club and you can play socially with friends, train with a team to improve your skills or compete and represent the University of Portsmouth. With 34 competitive sports clubs at your disposal, the choice really is yours. Check out our website to find out more about all clubs and join today.
With a PLAY membership, you will get more social access to the sport of your choice. These sessions allow you to play sports, have fun, make friends and maybe even try something new without the competitive commitment.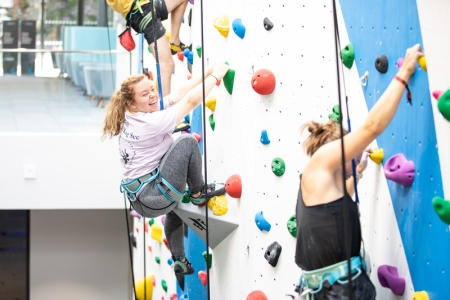 Benefits of exercise
Regular exercise can bring a number of benefits to both your body and mind. Dedicating just 30 minutes of your time to physical activity a day is all you need to start seeing these benefits.
Improve memory, lengthen attention span, boost decision-making skills, improve multitasking, lower blood pressure, reduce stress, improve mood, increase energy levels, improve immune system, reduce anxiety and achieve better sleep.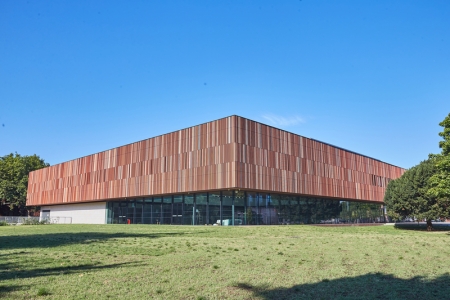 Sustainability
Ravelin Sports Centre will not only provide you with everything you need to stay on track and get the most out of your workouts. It is also one of the most sustainable sports centres in the UK.
This facility has received a top design rating of 'Outstanding' from BREEAM UK.

Pool water is reused for toilet flushing and a new community orchard is part of a sustainable drainage system. A wildflower amphitheatre events space will develop biodiversity in the surrounding areas.
You have full access to the gym anytime and a range of fitness classes, as well as squash courts and a range of discounts on outdoor bookings.
Once you have activated your membership, download our app UOP Sport, use your email and create a password by selecting 'Password Reset'. Then you can log in and book classes as you please. If you need your seven-digit membership ID number to create or reset your password, please speak to any member of staff.
As soon as you have signed up with us, you'll receive a confirmation email and you can access our facilities straight away.
No, your University Student Campus card will be activated when you sign up. This will give you full access to our facilities, including our gym turnstiles and kiosk access point.
If you consider yourself to be a competent gym user you will not be required to book an induction. However, if you are not a confident gym user you can book a free 1 to 1 gym induction with one of our fitness instructors.
You can cancel your membership easily - we need to receive your request in writing and 14-days notice to cancel a membership. You can request to cancel your membership easily through our customer support form.
Yes, we have changing facilities in Ravelin Sports Centre which you can use throughout our opening hours. We have 3 changing areas - Dry side, Wet side and Sports hall changing rooms, each area has shower facilities, toilets and changing areas with some private changing cubicles.
You can freeze your direct debit for a maximum of 6 months. Due to the freeze always starting from the payment date, we require 5 days' notice before your next payment date to freeze your membership. To freeze your membership, please fill out the form at the bottom of our Customer Support page or through the Customer Support button in the UOP Sport app. You can only freeze annual memberships in the event of illness or injury – evidence may be required and is down to the discretion of management.
Ravelin Sports Centre is open weekdays 6.30am – 10.30pm, and weekends 7.00am – 9.00pm.
Langstone Sports Site is open 7.00am - 10.00pm during our 'Core' opening times (based around term-time), during our 'Non-core' opening times (generally vacation periods) Langstone Sports Site is open weekdays 07.30am – 9.00pm and weekends 08.30am – 1.30pm.
Unfortunately not, we know it's boring, but due to health and safety requirements, we need each individual to sign up to ensure they agree to our health commitment statement, terms, conditions and rules of use as well as confirm gym competency.
We don't currently offer a family membership. Our Ultimate memberships do however include one designated under 16 swim whenever you swim, they'll also get a discount on other activities. Your designated under 16 can be assigned to your account on your first visit.
On your first visit, please come to reception so the sports staff can activate your campus card (students and staff) to use the sports facilities. Public members will need to take collect their wristbands or stickers at reception.
Not what you were looking for? Have you considered our sports club memberships, choose from over 35 clubs to join.