Your gym membership
We look forward to welcoming you to our brand new state of the art fitness suite
Your gym membership
If you chose gym as one of the activity options in your membership, you will have access to our 175 station gym featuring top of the range Technogym equipment.
We can't wait to help you achieve your goals but there are a few extra things we need to tell you for you to get the most out of your membership.
Step 1: What you need to know
Your safety is important to us. If you are not a competent gym user, you need to familiarise yourself with the equipment and understand all the health and safety elements before you start exercising. Our induction video will cover all the safety tips, however, we highly recommend you book a free instructor led Gym Induction so a member of the team can walk you through the gym and give you the help and advice you need to get you started.
Please also read our health commitment statement, terms and conditions, and rules and regulations for Ravelin Sports Centre on our website.
Step 2: What you need to do
Before you start using the gym, it's important you have both the UOP Sport and UOP Fitness apps downloaded. Both apps are free to download from the App Store or Google Play store.
UOP Sport is where you will book all your Gym Services and Group Fitness Sessions. You can schedule, cancel and view your activities here so you never miss a booking.
 
UOP Fitness is our new app that allows you to access and track your exercise and lifestyle data, anytime, anywhere. Simply login using a QR code on your phone or by entering your login details manually on the kit. 
If you have the UOP Fitness app, when you are logged in on the Technogym kit it will automatically record your data. It remembers your workout for next time and even suggests alternative exercises based on your exercise history and fitness level. As well as tracking your workouts in the gym, you can also connect your other third party fitness apps such as Strava, MapMyRun and MyFitnessPal so all additional workouts away from Ravelin Sports Centre and nutritional data can be logged too.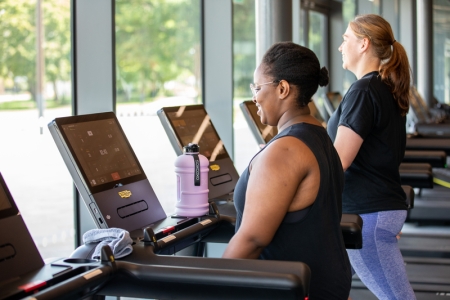 Step 3: What you need to succeed
Following a training plan and tracking your activity will keep you focused and motivated to exercise more regularly.
UOP Fitness has hundreds of pre-prescribed training plans. Simply answer a few questions and it will suggest suitable programmes to meet your fitness goals. If you would like a training plan designed just for you, simply book a free consultation via UOP Sport app with one of the team and they will do the rest.
If you find it hard to motivate yourself, our dedicated team will also be running additional Group Training Sessions. Check out what is on offer and book your place online or via the UOP Sport app.
We look forward to welcoming you to our gym. If you have any queries, do not hesitate to talk to a member of our team when you visit, or you can email us at
s
port-fitness@port.ac.uk
.