Your climbing membership
You will be able to reach new heights at Ravelin Sports Centre, thanks to our brand new climbing wall that goes from basement to roof
Your climbing membership
If you have selected climbing as an activity option as part of your membership, you will have access to our 10.85 metre climbing wall and 120 square metres of bouldering. With our eight auto-belays, you will be on the wall in no time after a quick induction from our instructors.

The climbing wall and bouldering wall is located downstairs in Ravelin Sports Centre. Enter through the main entrance, then down the main stairs.
Step 1: What you need to know
Climbing sessions need to be pre-booked on the UOP Sport App. If you haven't already, download the app now to see how to book. You can book up to a week in advance.

The minimum age for climbers using our climbing wall is 7 years old.
 Anyone under the age of 18 must also have signed a parental waiver before being given access to the wall.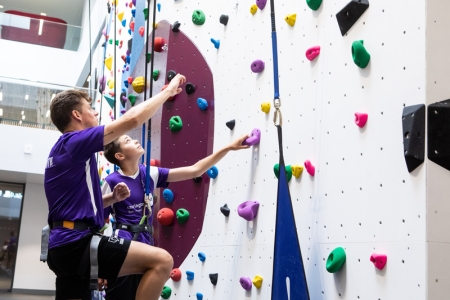 Step 2: What you need to do
Before climbing, you will need to complete a registration form and sign the correct waiver based on your ability.
You will be given safety instructors by one of our instructors before you start your session.
Our instructors will remain present for the duration of all sessions to supervise, ensure safety, answer any questions you have and offer guidance, if needed.
To find out more information, you can find all of our rules and regulations, terms and conditions, and our health commitment statement on our website. 
Step 3: What you need to succeed
Our climbing routes will change on a regular basis, so try out as many as you can before they change. Look out for notices on the screens about upcoming route changes.

The climbing routes are colour-coded by difficulty. The higher the number on the starting stages, the harder the route.

Climbing shoes are strongly recommended and can be hired or purchased from reception. These will give you a lot more grip on the wall compared to normal shoes.

Climbing chalk is recommended as it will give you a lot more grip and protect your hands. Chalk and chalk bags are available for purchase from reception.
If you have any questions about your climbing membership, do not hesitate to ask a member of our team when you visit, or you can email us at sport@port.ac.uk.