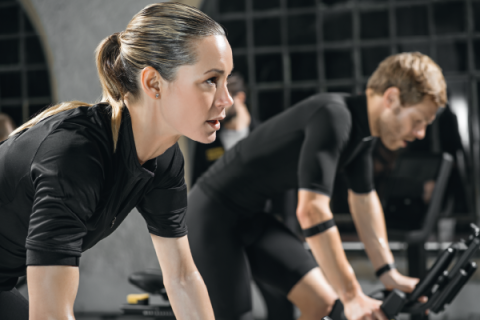 Brand new, top-of-the-line Technogym equipment. 175 stations will push you to your new personal bests.
24 November 2021
6 min read
The quality of equipment can often be the key to effective workouts, which is why we have invested in top of the range gym equipment, to help you stay on track and reach your goals. 
You've probably already heard that Ravelin Sports Centre is the home to a 175 station gym, but what you may not know is that our gym is powered by Technogym. Technogym is the leader in innovation, technology and digital connected fitness. Whether you are looking to play, train or compete, our brand new gym will provide you with everything you could possibly need.
Read on to discover the specific equipment that makes up our brand new gym.
Cardio can help to lower blood pressure, keep your arteries clear and also improve memory and thinking ability. We have a range of machines that facilitate this type of exercise. You can find the full list of cardio equipment below:
22 Treadmills (various types, featuring inclines, sled mode, parachute mode, interactive screens for training, guided runs and outdoor runs)
4 Stair climbers
8 Ellipticals
43 Bikes
Upper body/arm ergometer
8 Rowing machines
Lower body workouts will engage the major muscle groups of your body, which contributes to athletic performance and supports healthy movement in your day to day life. Our lower body equipment includes:
Artis squat
Abductor
Adductor
Seated leg curl
Leg extension
Leg press
Prone leg curl
Strengthening your upper body gives you the posture to fight unnecessary injuries and maintain form during physical activity, as well as boost metabolism. Ravelin Sports Centre has a range of upper body equipment for you:
Chest press
Pec flye
Lat machine
Low row
Shoulder press
Abdominal crunch
Reverse flye
Chin and dip
Our plate loaded machines are safe, easy for you to use and have astounding muscle-building benefits. Their weight limits usually far exceed that of non-plate loaded machines too. All our plate loaded machines are listed below:
Hip thrust
Chest press
Shoulder press
Row
Wide pulldown
Rear Kick
Leg Press
Hack Squat
Standing Leg Curl
Leg Extension
Seated Dip
Wide Chest Press
Calf machine
Multipower (smith machine)
If you are looking to improve your balance, incorporating free weights into your workouts is extremely beneficial. What's more, they are incredibly versatile so you can perform hundreds of different exercises. You can find a list of our free weight equipment below:
Dumbbells from 2-60kg
Olympic Inclined Bench
2 Olympic Flat Benches
17 Adjustable Benches
AB Crunch Bench
Lower Back Bench
2 Scott Benches
OBs Racks
GHD Bench
T-Bar Row
Barbell Rack
Chromed Dumbbells
8 Olympic platforms equipped with:

Power racks
Bumper plates from 0.25kg to 25kg
7.5kg, 15kg and 20kg Olympic bars
Jerk blocks and half hex bars
We know how you like to perform so have even included additional 10kg plates and full size 5kg bumpers for you to perfect your lifting technique.
Functional training is an ideal way for you to improve a range of different types of fitness, from cardiovascular, strength, flexibility, power all the way to agility. It essentially allows you to improve the performance of everyday movements. We offer a range of equipment to help you with this:
Dual adjustable pulley machines
Cable machines
ESP Multi use rig
Powerplate
Assault Bike
Skierg machines
Kettlebells
SkillBench
2 Skill Tools Racks
Unity Self
Plyo Boxes
Jump ropes
Medicine balls
Slam balls
Speed ladders
Three of our new plate loaded machines including the re-designed Hack Squat
The benefits of using Technogym equipment
Stay connected - You can connect your phone to our machines via Bluetooth and be guided through your sets and repetitions. Even once you leave the equipment, your results will follow you, allowing you to easily track your performance and progression. 
Engaging workouts - Some of our Selection 900 machines include Unity Mini which provides you with a virtual coach, offering on-screen guidance and helping you select the right settings for you while staying safe. This feature allows you to easily see your maximum strength and follow visual feedback.
Natural movement - Our machines deliver resistance constantly across all types of motions, whilst still enabling fluid movement. The material and shapes of Technogym equipment handles offer improved grip and contact too.
Ease of use - If you are unsure of how to use specific equipment, you can find a placard on each machine that offers all of the necessary information, along with a QR code for guidance and tracking. Naturally, you can also speak to one of our fitness team.
Increased comfort - The equipment has been carefully designed for comfort and provides ergonomic support for the spinal column. Conveniently, there are also dedicated holders for any of your personal belongings and a towel locking device.
Easy setup - Gym equipment can sometimes seem intimidating which is why Technogym include visual flags marking the correct position for your body and all buttons, levers and pins are all in yellow, making them extremely easy to spot.
Phone charging - You can't arrange that post-workout night out when your phone is dead. Place your compatible device in the marked area of the tray and let it refill its juice. Social life saved.
Personal entertainment - Watch your favourite Netflix show or the latest Youtube videos whilst you workout.  Get your groove on with your go-to Spotify or YouTube playlist, or browse the most popular websites.
Indoor exercise with an outdoor feel - Let natural and urban landscapes captivate you while you're working out. Be amazed by where your travels around the world can take you.
We are so excited to welcome you to our brand new gym and for you to be able to try out all of our new equipment.
You can secure your place on the start line as one of the first to use our Technogym equipment by signing up for one of our Ravelin Sports Centre memberships today.