Give Me Sport 2023
Try out Ravelin Sports Centre and our 34 sports clubs
Start your health and fitness journey here.
If you're keen to get involved in sport, you're in the right place. Through Give Me Sport, you can try out taster sessions and trials for our 34 Team UOP Sports Clubs, use our 25m swimming pool, and take part in instructor led group fitness classes.
Give Me Sport memberships are on sale now for £5. Buy your membership today to be ready to try out all things sport at the University of Portsmouth.
How does Give Me Sport work?
Give Me Sport is your chance to try out all things sport at The University of Portsmouth, across Thursday 21 - Sunday 24 September (part of your first week of uni).
Pick up a Give Me Sport membership for just £5 to get access to four full days of: 
Follow our Team UOP Sports Clubs on social media to meet your future team-mates ahead of Give Me Sport, and stay in the loop with updates from your favourite clubs.
If you need any help with purchasing your Give Me Sport membership, follow this guide.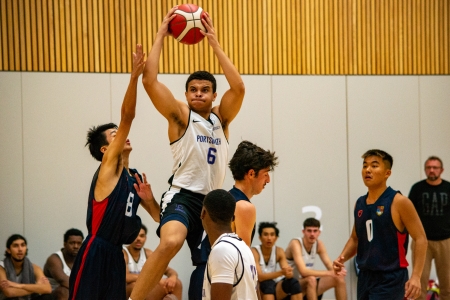 Come and try our 34 Team UOP Sports Clubs! You have four days during Give Me Sport to try taster sessions and trials, with no previous experience needed and no commitment to sign up straight away. All of the Team UOP Sports Clubs compete against other universities in regular competitions and leagues.
Sport club sessions for Give Me Sport will be bookable through the UOP Sport app nearer the time.
Our clubs include:
American Football
Archery
Athletics
Boxing
Badminton
Basketball
Cheerleading
Climbing
Cricket
Dance
Dodgeball
Equestrian
Fencing
Futsal
Golf
Gym and Tramp
Handball

Hockey
Lacrosse
Men's Football
Men's Rugby
Netball
Rowing
Sailing
Snow Sports
Squash
Swimming and Water Polo
Table Tennis
Taekwondo and Karate
Tennis
Ultimate Frisbee
Volleyball
Women's Football
Women's Rugby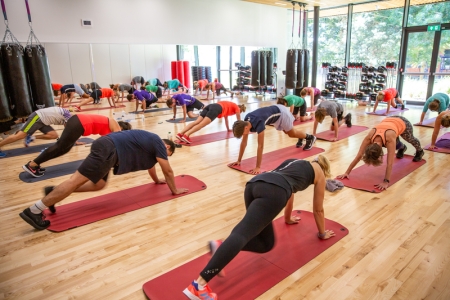 Get fit and healthy with other students in our fun fitness classes. With our team of fitness instructors, you can try out group fitness classes across the four days of Give Me Sport.
Our wide range of classes includes:
Cardiovascular classes such as cycling and Zumba
Mind and body classes like pilates and yoga
Strength and conditioning classes with weights and equipment
LES MILLS™ classes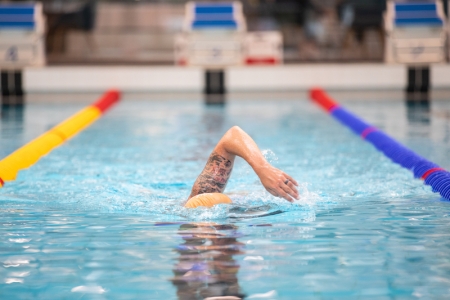 Access our 25m, 8-lane swimming pool in Ravelin Sports Centre as part of Give Me Sport. There will be casual swim sessions bookable as part of your Give Me Sport membership.
Our swimming pool has an adjustable depth, so swimmers can learn to swim in shallower waters whilst more confident swimmers zip up and down the lanes in 2 metre depth.
Ravelin Sports Centre
The Give Me Sport indoor sport sessions and fitness classes will be in Ravelin Sports Centre, the University's new sports facility, located right next to the University Library.
Through Give Me Sport, you can try before you buy! Check out your great value membership options, starting from £15.99 per month. 
The centre opened in September 2022, so we are approaching our first birthday. Here are some of the key features:
We can't wait to see you there. Come in any time to meet the team and have a look around the facilities.
Sport at the University of Portsmouth | University of Portsmouth
Sport at Portsmouth is more than just sport itself, make friends for life, find your place and stay active. Whether you are currently play, train or compete at any level or have never put on a pair of trainers our 35 sports clubs have a place for you. Sport at the University of Portsmouth is so much fun, just hear what some of our students think.
Abbie
The best part of playing sport is the sense of community that you have.
Ben
The amount of friendships you make is just awesome.
Leah
You become literally like a little family.
Carolina
So many different cultures, so many different people. It's like a second home.
Alfie
It doesn't matter what ability you are. We've always got space for everyone.
Carolina
We start with a beginners level, a development level and then our competition level.
Ben
It's not just about competing, it's about getting the best out of yourself, which for me is what really drives me.
Barney
Give Me Sport is a fantastic weekend where you have three days where you can try out any sport you want.
Josh
It really does open up a whole window of opportunity.
Alfie
You meet friends. It is a really great way to socialise in your first weeks of university. It's just a really positive experience.

Leah
As soon as I set foot into that trampolining centre, I was like, oh, I like the environment, I love all supportive people here and I love the sport. It was so nice to just try something new. It's that time where you can make mistakes and learn new things and why not give everything a try?
Abbie
The facilities that we have at the University of Portsmouth are amazing and ever-growing.
Ben
Ravelin is a state of the art leisure centre.

Alfie
We've got squash courts,
Barney
swimming pool,
Leah
sauna and steam rooms,
Barney
gym,
Alfie
sports halls,
Leah
strength and conditioning
Barney
and classes.
Alfie
I just couldn't ask for a better sports facility.

Leah
Training is an amazing escape sometimes from the stress. I have some days where I have a really long library session, I can go to training here in Ravelin and then go straight back to the library and it just completely refreshes me.
Carolina
Having sport alongside your studies allows you to relax.
Lily
It's a bit of a break away to meet your friends and have some fun.
Carolina
Take a moment to not think about anything else.
Josh
There's always lots going on. Each club will have a different event every week.
Carolina
We go out to Purple Wednesday, where everyone dresses up in a particular theme and then we all shout very loudly and have loads of fun.
Leah
But then we also do karaoke nights, game nights and we have a monthly quiz.
Carolina
We also have Varsity, where Portsmouth competes against Southampton in all of the sports here at the university.
Lily
There are chants, shouting and screaming.
Alfie
We're going to beat Southampton. (Cheers)
Lily
If someone is new to the university and thinking about doing sport, I'd say 100% do it. It's the best community you can ever be a part of.
Barney
It will give you great memories, it will improve your university life and make you meet friends.
Ben
The sense of achievement that you can have from it is fantastic.
Abbie
I was really nervous to do it and now that I've done it, I am a completely different person and it's made my university experience so much better.
Give Me Sport isn't the only big start of term event for sport. Check out our Welcome page to see all your sporting opportunities.
Travel to sessions 
Travel to some venues outside the city is included, the time of the session on the app is the start of the actual session, so give yourself a few minutes before to get ready. Check the bus timetable to ensure you arrive on time, if you're unsure check with the club.
Langstone Sports Site is across the city from the main campus. The sports bus will be running on Friday 22 -Sunday 24 September so take a look at the timetable to plan your journey ahead. Please be aware that Portsmouth Football Club is playing on the Saturday at 3pm, so please plan ahead as there may be traffic delays.
You can also get a taxi for about £8-10 each way through Aqua Cars (02392 654321) or depending on the time you may be able to get an Uber for around the same price. The postcode is PO4 8LW should you need it.
Cycling to Langstone Sports Site will take you roughly 15 minutes and a walk will take about 60 minutes. 
Most tasters and trials will be taking place in Ravelin Sports Centre or Langstone Sports Site but will also take place in various locations: