Team UOP Committee
Being part of your club's committee and leading your club to success
Team University of Portsmouth Club Annual General Meetings (AGM) will begin the week commencing Monday 20 March 2023.
The University of Portsmouth has a key focus on providing a range of opportunities for students to be physically active while studying in Portsmouth. Team University of Portsmouth (Team UOP) has a key role in providing opportunities for students to play, train and compete improving personal relationships, personal development and personal bests through sport and physical activity. With this in mind, our performance aspirations are to increase our overall BUCS position and consistently be placed within the Top 30 and we need strong leaders to help us achieve this.
Team UOP is made up of the clubs, committees and members of the University of Portsmouth's 35 student sports clubs. Team UOP clubs and committee members are managed by staff in the University's Department of Sport and Recreation, based in Ravelin Sports Centre. If you think you have the leadership qualities to lead your club and collaborate with club members to achieve great things then submit an application for a committee position at your club's AGM this year.
Committee Roles - everything you need to know
What is a Team UoP sports club committee member?
300 committee members run our Team UOP clubs every year. They lead, manage and look after the day-to-day running of their club. Sport and Recreation staff work closely with committee members to plan, coordinate and deliver all club activities (sporting activities and social events).
Who can apply to be on the committee next year?
You can apply for a committee position if you hold a valid Team UOP Sports Club membership and are a University of Portsmouth student studying in Portsmouth in the 2023-2024 academic year (between September 2023 and June 2024). You will also need a Team UOP sports club membership for the 2022-2023 academic year and be part of the club during their AGM process (happening in March 2023).
What does it take to be a committee member? 
Our committee members are the most passionate, dedicated and hard-working volunteers you'll find, committed to developing their clubs and offering outstanding sporting opportunities for UOP students. Our committee members work hand in hand with our Sport and Recreation staff who are responsible for our clubs and committee development. As a committee member, you'll have lots of training, support and communication from our staff in Sport and Recreation. Committee members are the role models of their clubs, ensuring their clubs and our University are positively represented both on and off the pitch.
What is my club's committee structure, and how do I know which roles are available to apply for?
All of our Team UoP sports clubs have a committee that works with Sport and Recreation staff. The committee is made up of lots of different roles and they are responsible for the day-to-day running of their sports club.
The Committee Structure 
Our club committees are split into 3 strands that look to improve the club as a whole. Collaboratively the committee develop the profile, people and performance of the club. The committee roles are broken into the Executive Committee and the Sub-Committee. Some of our clubs have additional roles, as they are specific to their club's needs.
The Executive Committee will have 'line manager' responsibilities for the Sub-Committee. The President will line manage the Engagement Secretary, RAG/Events Secretary and Media and Publicity Secretary. The Vice President will line manage the Welfare Secretary and Social Secretary. The Club Captain will line manage the Team Captains.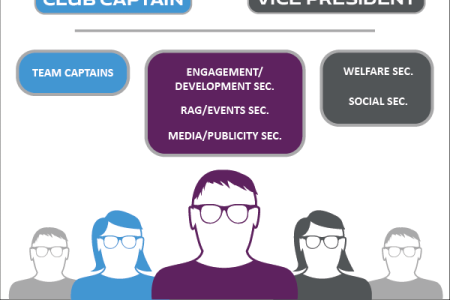 Executive Committee roles:
President - looking after the 'profile' of the club
Vice President - looking after the 'people' of the club
Club Captain - looking after the 'performance' of the club
Sub-Committee roles:
Raising and Giving (RAG)/Events Secretary - raising the profile and raising money
Media and Publicity Secretary - raising the profile of your club
Engagement Secretary - getting people involved in club activities
Welfare Secretary - point of contact for welfare aspects 
Social Secretary - co-ordinating the social aspect of clubs
Team Captains - leading their teams to improve performance
Find your club's committee structure, the breakdown of roles, outline and responsibilities.
Applying for a committee role
The applications for committee roles are screened by staff within Sport and Recreation.
Decide on which committee role to apply for within your club
Watch the AGM video
Complete your application via the application form below (4 days before your AGM for Executive Committee roles / 1 day before your AGM for Subcommittee roles)
You'll receive an email letting you know your application has been accepted from Sport and Recreation
Create your 2 minute speech (presentation or video) to give during your club's AGM
You will need to give 2 manifesto points within your application - these are your aims and objectives. Sport and Recreation staff can help you understand your club's development plan.
Think about your manifesto points:
What positive impact can you have on your club and its members?
How can you support a positive student experience?
What is your club's development plan?
Are your manifesto points realistic?
How does it link to the Sport and Recreation strategy?
What can you offer? What are your strengths?
What makes you a good leader?
AGMs - everything you need to know
Every Team UoP sports club will have an annual Annual General Meeting (AGM) to elect a new committee for the following academic year. These will happen in March 2023. AGM's are where candidates for each role deliver their manifesto points to let their members know why they'd like to be on the committee and what plans they have for their club development.
Your club will promote the day, time and location of their AGM. A member of staff from Sport & Recreation will be in attendance to run your club's AGM as the Returning Officer - this ensures all votes are counted fully and verified. 
During the AGM:
Every candidate who has applied for a role will deliver a 2-minute speech (presentation or video) for their club members to vote on

Candidates are asked questions by club members/Sport and Recreation staff

Club members cast their votes (anonymously via an online link)

The candidate with the highest number of votes

secures the committee role for 2023-2023
Register as a Team UoP committee member, the link will be sent to you

Attend a club development meeting with Sport and Recreation staff

Attend 'Handover Conference' - your first round of training and team building as a committee member

A formal handover between outgoing and incoming committee members will happen

Start in your role
Step 1. Find your club's committee structure & read up on the role's outline and responsibilities so you know which role you're going for and what is expected in that role
Step 2. Watch the AGM video to educate yourself on Sport & Recreation and committee roles (listen carefully, there will be some questions to answer within your application)
Step 3. Apply for the role you'd like to run for using the application form and give your 2 manifesto points (we can only accept applications before your AGM - see our FAQ's below for more info)
Step 4. Once your application has been accepted. Prepare your speech (you can also do a presentation or video if you wish)
Step 5. Go to your AGM (your club will let you know the day/time/location) to present your speech (presentation or video)
Step 6. Your club members will vote during the AGM - the outcome of the vote will be announced during the AGM. The candidate for each role with the highest number of votes will secure the committee role they applied for. 
Step 7. The highest number of votes secures the committee role - you'll then register as a committee member for the 2023-2024 academic year
You can find the answers to some frequently asked questions surrounding AGMs via this link.