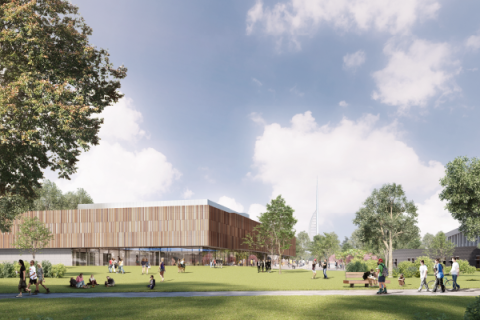 We are incredibly proud of our new facility - Ravelin Sports Centre and would like to highlight all of the benefits that it offers.
We're extremely excited about the opening of our brand new facility - Ravelin Sports Centre and we hope you are too!
Our outstanding new sports centre is located in Ravelin Park, Cambridge Road and is the perfect place for you, whether you are looking to play, train or compete. All memberships are available for sign-ups from Monday 15 November.
New opening times
As well as the much wider range of facilities and activities that Ravelin Sports Centre offers, it will also provide you with much greater convenience. Our current gym - St. Paul's Gym is only open with full hours in term time, however our brand new centre is set to be open all year round, seven days a week, with the exception of Christmas Day, Boxing Day and New Year's Day.
Not only this, our opening hours each day are also considerably longer. Ravelin Sports Centre will be open 6.30am until 10.30pm on weekdays and 7.00am until 9.00pm on weekends. So, you'll be able to fit your workout sessions into your busy schedule with ease. 
The increase in quality will be apparent as soon as you walk through our new revolving doors from the newly landscaped parkland.  
Our facilities
We are delighted to be able to provide you with a much bigger offering and facilitate a wider range of sports. Ravelin Sports Centre includes:
25m eight-lane swimming pool - Our 25m, eight-lane swimming pool has a floating floor meaning that half the pool (4 lanes) can have a different depth so a more flexible programme can be put in place. This makes it perfect for beginners worrying about the deep end as the whole lane will be the same depth.
Sauna and steam rooms - Our sauna and steam room can help you to relax your muscles and your mind after your workout.
8 court sports hall - The impressive double sports hall is the perfect place to play a whole range of sports and host events.
175+ station gym - Our 175 station gym features top of the range gym equipment provided by Technogym - the leaders in innovation, technology and digital connected fitness. Including 8 lifting racks, hip thrust machine, hack squat and much more. 
3 fitness studios - We offer a range of world-class workout programmes to choose from for all fitness levels.
2 squash courts - Our squash courts stand side by side and the partition wall is movable, so we are able to increase the size of the courts for doubles. 
Bouldering and climbing facility - Rising through the centre of the building, from the basement to roof, scaling the impressive climbing wall will be a challenge like no other.
Teaching space and treatment rooms - We have included everything in our new sports centre to ensure that you are able to reach your goals.
Café - Our Starbucks café is located right next to the reception, it is ideal for refreshments before or after your workout.
Activities
The range of activities we offer is about to get much bigger too! We are delighted to be expanding the number of fitness classes you can take part in, including FloatFit, Les Mills world class workouts and more. Our confirmed timetable will be available soon. We are also pleased to announce that we will be launching the University of Portsmouth Swim Academy in January 2022 which will provide children with the perfect opportunity to build their confidence in the water and move up the stages, and if this wasn't enough we will also offer adult swimming lessons too. 
Sustainability
As well as providing the city of Portsmouth with the perfect place to take part in sport or reach fitness goals, the building itself is also an asset to the city. We are fully aware that new developments can sometimes cause environmental issues and can therefore be unpopular among the local community. However, with Ravelin, this couldn't be further from the case. Sustainability was prioritised during the design process, meaning that the building will only provide benefits. Ravelin Sports Centre has already been rated "Outstanding" by BREEAM (the world's leading sustainability assessment for buildings), here's why:
Renewable energy - The centre will utilise renewable sources of energy from 684 photovoltaic roof panels and internal heat recovery systems.
Water preservation - Pool water will be reused for toilet flushing and a new community orchard will be part of a sustainable drainage system.
Green roof - A green roof has been installed and sown with grass and wildflower seed, it will also house beehives.
Increasing biodiversity - 140 new native trees have been planted and bat and bird boxes will increase fauna and biodiversity.
Prioritising quality
Not only did we aim to provide our students, staff and the local community with a building that is visually stunning, we also prioritised quality and practicality. All of the equipment in the gym is powered by Technogym (official suppliers of the training centres of the Olympic and Paralympic games), this alone will significantly enhance your workouts.
Our swimming pool also has a floating floor which means that the depth of the pool can be altered and swimming lessons can take place at one end whilst training sessions or open swimming can be going on at the other end of the pool. We aim to provide you with an excellent experience from start to finish.
Ravelin Sports Centre in the heart of Portsmouth will be a fantastic new asset for our city featuring a swimming pool, climbing wall, sports hall and 175-station fitness suite.
Is Ravelin Sports Centre for you?
We're a facility in central Southsea open to students, staff and the local community from Monday 13 December 2021. We can't wait to welcome you through the doors, if you want to be first in the doors check our opening times. We look forward to welcoming you! If you've been a member or visited our facilities at St. Paul's Gym or Spinnaker Sports Centre you'll understand the ageing facilities that still hold a fond place in our hearts and why Ravelin Sports Centre has been built.
Whoever you are and whatever your sporting ability, Ravelin Sports Centre is for you. Due to the scale of the building, we are able to offer an excellent experience for everyone, whether you are an athlete in training or a complete beginner to sport and the gym, you will be made to feel welcome and will be helped to achieve your goals.
Visit our memberships page on our website to find out more information on how you can sign up to Ravelin Sports Centre. We look forward to seeing you there!