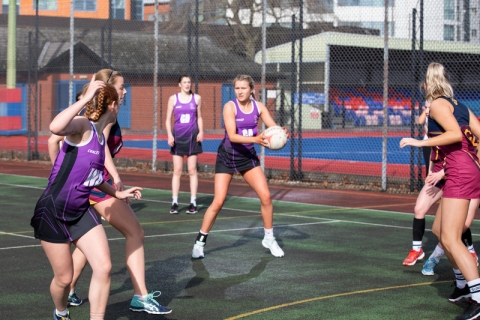 Read Imogen's story about how joining the UOP Netball club was the outlet she needed
Our Sporting Minds mental health awareness month continues with stories from Team UOP member's. These honest and frank stories are an example of how sport and physical activity can play a part in improving mental health. We want to raise awareness for these stories and of the issues they look to challenge. These personal stories are powerful and should start up conversations between you and your friends, family and team-mates. We have also supplied a number of resources below if you are affected by this story.
Imogen is a proud UOP Netball Club member and is studying a BSc in Sport and Exercise Psychology, this is her story.
From the age of ten, I have been quite an anxious person and often have a tendency to overthink and worry myself out of situations before they have even begun! When starting University in 2018, I knew it was going to be a challenge but also an exciting new chapter of my life. Towards the end of the year, things all became a bit much and my anxiety began to take over my life and cause me to feel quite isolated and alone. It was at this point that I began to realise the true benefits of physical activity.
I was fortunate enough to be selected for one of the BUCS netball teams at the start of the year, and I can honestly say that the outlet it provided and the girls I met through it helped me massively. When I turned up to training, all my worries seemed to leave me, and I could channel my energy into my fellow teammates and the upcoming game for that week. I really felt like I could confide in my team without judgement, which hugely impacted my general mood and day-to-day life at Portsmouth. As well as netball, taking the time to walk down to the sea and get some lungfuls of fresh air really helped me to clear my mind and feel generally calmer.
If I could give any advice to other students who may be struggling, it would be to take the time to get some fresh air (sometimes alone!) and find that group/person who you feel like you can really open up to. Netball was honestly my lifeline during my first year, and I would encourage any person to take that leap of faith and join a new sport as it is such a fantastic way to meet like-minded people and de-stress.
I am currently in my final year of University and with the added pressure of the pandemic on my studies, I find myself out on walks/runs a lot more regularly and it definitely helps me control my anxiety and enjoy my last year at Portsmouth. I am very proud of how far I have come in a well-being sense due to sport, support from the University and my family, and I hope that anyone reading this who is currently struggling with their mental health knows that they are not alone and that it will get better, even if that takes a little while.
When I turned up to training, all my worries seemed to leave me, and I could channel my energy into my fellow teammates and the upcoming game for that week.
If you need some support with your own mental health at this time, the student wellbeing service have a number of resources to help.