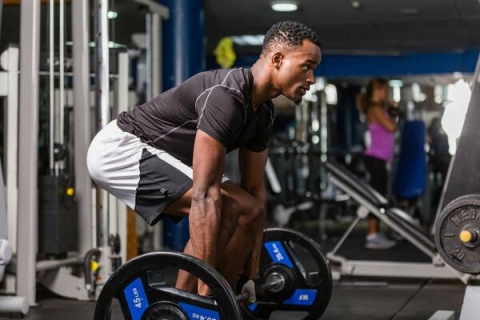 The opening of Ravelin Sports Centre is almost here. Although the Centre is opening 13 December 2021, this doesn't mean you have to wait until then to purchase your membership.
You can secure your place as one of the first through the doors at our outstanding new sports centre with our Ultimate 50/50 student membership. 
What is the Ultimate Student 50/50 membership?
When you sign up for the Ultimate Student 50/50 membership, you will get 50% off St. Paul's Gym, making it just £7.50 per month until 13 December when Ravelin Sports Centre opens. Then your membership will automatically convert to an Ultimate Student membership which is £22.50 per month. As an added bonus, you will also receive £50 off the cost of any sports club membership. 
What's included in the Ultimate Student membership?
Gym - including use of the 175 new machines provided by Technogym for the Ravelin Sports Centre.
Swim - including our new 25m 8-lane swimming pool with a floating floor, and sauna and steam room to help you to relax after your workout.
Fitness classes - including world-class Les Mills workout programmes to choose from for all fitness levels. 
Climbing - including our new impressive climbing wall rising through the centre of the building from the basement to roof.
Squash - two new courts available at Ravelin Sports Centre.
Discounts on courses, PT and sports bookings - including bookings in the new 8-court sports hall.
BUCS Universal - access over 100 gyms nationwide.
10% Discount on Team UOP Sports Kit.
Sports clubs
If you were already thinking of joining a sports club, then signing up to this membership is a no brainer, as you will receive £50 off. However, even if you weren't initially considering signing up for a sports club membership, it may be the perfect time to try. We offer over 35 sports clubs, so we are bound to have a sport that suits you perfectly. 
Early access
Another benefit of signing up for the Ultimate Student 50/50 student membership is that you will be invited to test events before the Centre even opens. This means that you will be one of the first to use the equipment and you will also be able to get a real feel for the place. 
Sign up now
You can sign up for your Ultimate Student 50/50 membership now. Our other student membership options (Core and Super) will be on sale from 15 November.
Not a current student? Different membership tariffs are available for University staff, associates, and members of the public.
If you have any questions on the memberships we offer, do not hesitate to get in touch, email us at sport@port.ac.uk.