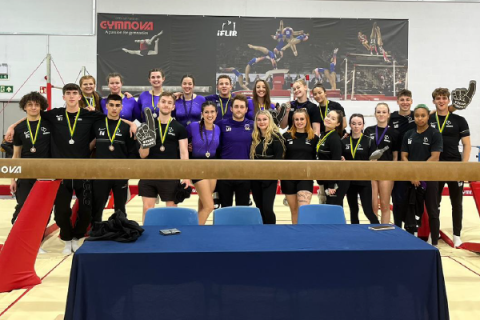 Our gymnastics and trampolining club competed at UGC's competition hosted by University of Nottingham
Our Gymnastics and Trampolining sports club travelled to Leicester last Sunday to compete in the University Gymnastics Cup (UGC), hosted by the University of Nottingham. The aim of the event is to bring together pre-existing University Gymnastics Open competitions to form a cohesive league for student gymnasts.
As with most gymnastics competitions, this event saw female participants compete on four apparatus:
Vault
Balance Beam
Uneven Bars
Floor Exercise
Male participants competed on six apparatus:
Floor Exercise
Pommel Horse
Rings
Vault 
Parallel Bars
Horizontal Bar
The apparatus
Vault - The vault is a signature piece of apparatus. Gymnasts sprint down a runway before launching off a springboard towards the vault table. After pushing off the vault table, they perform aerial maneuvers before landing on the other side.
Balance Beam - The beam is a narrow wooden rail that is used to perform routines consisting of turns, flips, and other maneuvers.
Uneven Bars - The uneven bars consist of two bars set at different heights so that gymnasts can move from bar to bar. 
Floor Exercise - This event takes place on the floor in an area of 12 metres. Gymnasts perform a series of movements that showcase elements of flexibility, strength jumps, holding of poses, balance, as well as other maneuvers. 
Pommel Horse - The gymnast supports themself with their hands by holding the pommels over the horse, they then swing one or both legs in circular motions.
Rings - This apparatus consists of two small circles that are suspended by straps, the gymnast has to perform swinging movements of the body, showcase their strength and hold positions. Whilst performing the athlete needs to ensure that the rings remain stationary.
Parallel Bars - Positioned at roughly head height, this apparatus is made up of two bars. A routine is performed on these bars, where the gymnast will demonstrate their swinging skills in a support position, a hanging position, and an upper arm position.
Horizontal Bars - Competitors perform routines that usually last 15-30 seconds. These routines typically involve the gymnast swinging from a hang to support above the bar, rotating around the bar from a handstand position, vaulting over the bar, releasing grip and grasping the bar, and finishing with a straddle over the bar or a somersault to the floor.
Scoring
Gymnasts essentially have two different scores, the D score (difficulty of the routine) and the E score (execution of the routine). Gymnasts start with a 10.0 execution score and points are deducted for faults e.g. falls, bent arms, or legs. The judges work out the difficulty score by adding up the hardest moves they have performed and whether they have met specific requirements. 
You can find out more on the Olympic website.
Winners
Our students performed incredibly well, winning a grand total of 23 medals between them. We couldn't be more proud of them and are looking forward to getting behind them for future events. You can find the full list of medal winners below.
Fin Morgan (Elite) - 1st in: All Around, Floor, Pommel, Rings, Parallel Bars and Horizontal Bar
2nd in: Vault
Dan Mock (Elite) - 1st in: Vault
2nd in: All Around, Floor, Pommel, Horizontal Bar
3rd in: Parallel Bars
Nick Rodrigues (Elite) - 2nd in: Parallel Bars and Pommel
3rd in: All Around, Rings and Horizontal Bar
Gianna Webbe (Elite) - 1st in: Floor and Bars
2nd in: Vault
3rd in: All Around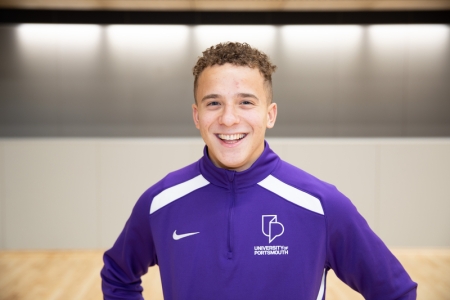 It was a great competition for all of the Gymnastics and Trampolining team at UGC Notts. We had a number of new members who did brilliantly in their first-ever competition. We had over 20 competitors ranging from the Novice to Elite categories. With two new Elite men on the team, we were looking very strong in the Elite team competition and secured a gold medal (Fin Morgan, Gianna Webbe, Dan Mock, Nick Rodrigues). A record number of 23 medals were won putting us in a great position in the UGC league. 
England call up
If 23 medals weren't enough to cause us to burst with pride, our sport scholar and Gymnastics and Trampolining club member Fin Morgan has been selected for the England Gymnastics team. We can't wait to see what the future holds for Fin and are looking forward to getting behind him and cheering him along the way.
You can find out more information on our Gymnastics and Trampolining club on their page.