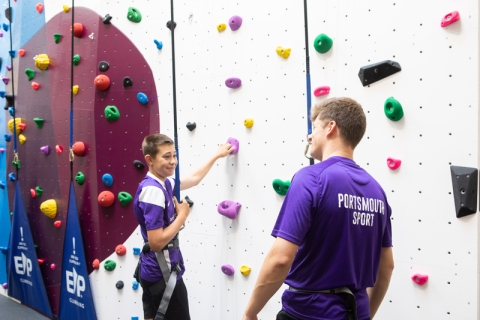 Keep your kids active and entertained during May Half term
Half term is just around the corner and planning a whole week full of activities for kids can be difficult. So why not book your children for a mini adventure on our freshly routed climbing wall while you enjoy coffee in our cafe or book a relaxing swim session? Climbing is a great activity to help build your child's confidence. They will leave the session having learnt basic climbing skills and techniques through various enjoyable activities and challenges.
When are the Half term climbing sessions?
Tuesday 30 May 10.00am-11.30am
Wednesday 31 May 10.00am-11.30am
Thursday 1 June 10.00am-11.30am
Friday 2 June 10.00am-11.30am
Throughout the May half-term, we will be running 1.5-hour introductory sessions on our climbing and bouldering wall. These sessions are for 7-12 years old children with all levels of climbing experience from beginners to advanced climbers. During this session, your child will get the opportunity to try out bouldering and climb our auto-belay climbing wall. Our qualified Instructors will lead your children through various challenges to keep them fit and active in a fun, safe and supervised environment. Each session costs £18 and can hold up to 10 children to ensure that each child receives enough guidance and help and can enjoy the session to the maximum. 
How to book?
To book your children onto one of our sessions, you will need to fill out a Half term climbing booking form in our Online Store. If you wish to do more than one booking, whether it is for more children or more sessions, it can all be added in a single form and paid for at once after completing all required information.   
With a confirmation email, you will also receive an email with a Climbing waiver which needs to be read and agreed to by a parent or guardian before the session. Alternatively, a Climbing waiver can be also found at the bottom of our Climbing webpage. 
Please note:  These sessions are not available to be booked through the UOP Sport app, online booking system or with our reception team. 
If you have any questions, you can call us on 02392845555, email us at sport@port.ac.uk or you can talk to a member of our team at the reception of Ravelin Sports Centre.
Information on Climbing at Ravelin Sports Centre:
Our 10-metre wide and 10.85 metres high climbing wall accommodates up to 8 climbers at once offering 2 new routes for each auto-belay with varying overhang of F5a to F7a difficulties. We also offer 120 square metres of bouldering in a 4 metres high tunnel with difficulties ranging from VB (Beginner) to V7. 
We offer climbing shoes, but we encourage climbers who own a pair to bring their own. Please, wear comfortable sports clothes so you can enjoy your session to the fullest without having to worry about uncomfortable clothes that could limit your movement. Any jewellery, hoodies and bags can be stored in one of our lockers located right by the climbing wall so you can easily access your belongings.