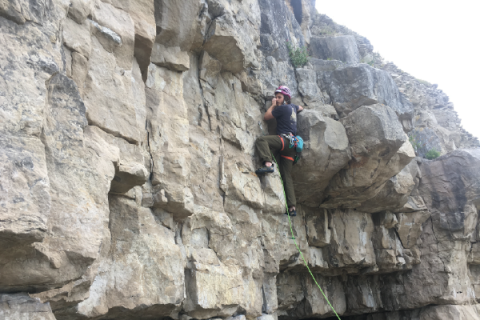 Read Rob's story about how joining the UOP Climbing club helped with building friendships
Our sporting minds campaign is running throughout the entire month of March 2022. This campaign aims to raise awareness of mental health issues through sharing stories from members of our sports clubs. These stories are honest, open and extremely helpful, showing readers that they are not alone in their struggles and giving examples of healthy coping mechanisms and outlets for dealing with complex feelings. We hope that this campaign inspires conversations between you, your friends, family and teammates. We have also supplied a number of resources below if you are affected by this story.
Rob is UOP Climbing Club's President and this is his story.
Coming to University as an estranged student was one of the best things I could have done, and also one of the most stressful! Being an estranged student means I don't have a relationship with my parents. Alongside that, I also landed myself in a studio flat in halls in my first year, so I didn't have flatmates to introduce me to University life in a new city, or a support structure I could confide in when things got tough. It was an incredibly lonely and scary few months. Trying to navigate that experience while also processing a history of depression and anxiety made University life very difficult for me and I knew that I had to develop some healthy coping mechanisms, and fast, if I was going to make the most of uni.
That's where rock climbing comes in! One of the first things I did was sign up as a member of our Mountaineering and Climbing club – I didn't even visit them at fresher's fayre, I already knew I'd love it. I have fond memories of those first few socials and training sessions. The club, and a few members in particular, went out of their way to make me feel welcome and included, and I quickly developed strong friendships and found myself structuring my week around their events. Having those weekly habits to look forward to provided my life with a crucial sense of structure and community. Alongside that, the regular climbing and hiking trips outside the city in greenspace, forests, and by the Dorset coast were some of the best contributors to my mental health. A bit of exercise and fresh air really does do wonders – it's annoying that it is so true.
All these experiences led me to join the committee, and in my second year I became the Social and Welfare Secretary because I wanted to help other lonely and lost students find a place at Uni just like I did. Fast forward to now, and I've been President, twice, which makes three years helping to run the club and four years enjoying its company. One of the major impacts of not coming from a healthy family structure is the sheer lack of social skills, and amount of stress that navigating conflicts can cause. My time in the club has helped me learn to share my love of my sport with others, and has brought me from the nervous wreck I was giving my election speech in my first year to the (still nervous) President giving speeches at all of our events!
However, it hasn't all been sunshine and rainbows. That little thing called "COVID" landed smack bang in the middle of my degree and caused me to retake my second year. It also removed most of my coping mechanisms by stopping me from going climbing regularly. The only possible exercise was the Government mandated one hour a day of walking. Suffice to say, my mental health has been a roller coaster. It has taught me many lessons.
The advice I would give to all students, not just those that are currently struggling, is to use the support that is available! Send that emotional email to your tutor, complain in your tutor group chat, rant at your flatmates, and ask family and friends for a chat! Those connections might seem uncomfortable to make at first, but you need them to live healthily. Join a group: whether it be a hobby or sport society, your Uni course society, or an online community. Oh, and get some of that sunshine and exercise, at least a few times a week!
Transitioning to University can be a tough, complex task for many. It's not an overnight thing and there are many elements to consider for what is often the first time of living away from home. Despite what is usually a fresh and enjoyable new environment, young people are all of a sudden away from family their embedded support networks and healthy escapisms. Equally, for many, University life and independence are a pleasantly welcome new period of their lives and become their primary 'safe' place.
Although it can be a huge step out of your comfort zone, everybody's in the same position. It's a new jump to develop and thrive both academically and socially, along with the managing of expectations for a new stage of your life.
Rob discovered the Mountaineering & Climbing Club and soon found a new, productive hobby that enhanced his wellbeing tremendously. A warm welcome enabled him to develop strong friendships and is a further testament to the positive impact of joining a University club/sports team, whether you wish to contribute socially and/or competitively.
Rob equally found new purpose in supporting others through his various committee roles and overcame (very common) anxieties of public speaking during his time with Mountaineering & Climbing. His hardships have enabled him to develop and refine new skills and have contributed significantly to his personal resilience.
Are you struggling with any topics raised in this story?
We have provided links to helpful resources for support below. 
If you need some support with your own mental health at this time, the student wellbeing service have a number of resources to help.