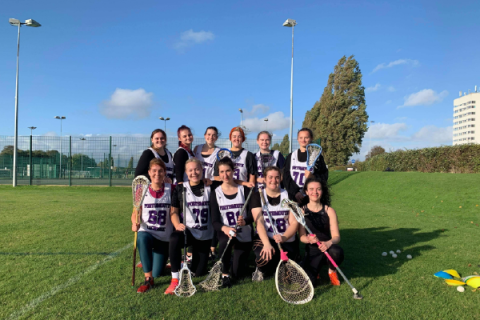 Read Dionne's story about how joining the UOP Lacrosse club and getting active helped to improve her wellbeing.
Our sporting minds campaign is running throughout the entire month of March 2022. This campaign aims to raise awareness of mental health issues through sharing stories from members of our sports clubs. These stories are honest, open and extremely helpful, showing readers that they are not alone in their struggles and giving examples of healthy coping mechanisms and outlets for dealing with complex feelings. We hope that this campaign inspires conversations between you, your friends, family and teammates. We have also supplied a number of resources below if you are affected by this story.
Dionne is a member of UOP Lacrosse club and is studying BA (Hons) Drama and Performance, this is her story. 
Hi, I'm Dionne. I'm 24 years old and am a first year student studying Drama & Performance. At the Freshers Fayre, I came across the lacrosse stand where I was greeted by some lovely members of the team and very quickly joined. Since joining in October, playing a sport has helped me gain confidence, and even though I struggle at times with my co-ordination, due to having ADHD, being part of a team and meeting new people has helped me develop social skills and thus positively impacted my wellbeing.
I feel a sense of belonging when I'm on the pitch and being out in the fresh air makes me feel good mentally and physically. There's been many a day where I've been struggling with my mental health and have been very tempted to not train. I'm always glad that I pulled myself together and went to those training sessions, as running around for 2 hours, doing a variety of drills and chatting and having a laugh with my teammates takes my mind off of things. Sport and exercise is such a great way to tackle areas that I struggle with and it's a chance for me to let go and release some endorphins.
If I had to give any advice for my fellow University students - it would be to get stuck in and become involved with a sports team, whether that's football, tennis, swimming, or lacrosse (big shout out to the Lax gang). Even joining the University gym, with regards to looking after your wellbeing. You won't regret it! I cannot argue enough how much exercise and running saved my life this time last year when I was in a very dark place, as well as how being outside with my headphones on made me feel good. Now, by being part of a team and at the University gym, I know that I have safe spaces and places to go to let go of any struggles, or, if I'm feeling overwhelmed. There are a wide variety of teams out there, so I'd encourage you to check them out if you haven't already. The committees and staff members are so lovely and approachable!
If I had to comment on one thing that I've achieved or that I'm proud of, it would have to be believing in myself. This is because, so often, I still put myself down a lot, but lately over these last 5 months of moving to a new city and making new friends, I joined a sports team. A sport I'd never really heard of, and as somebody with ADHD, my attention span isn't always 100%. For me personally, I'm proud of sticking at it and I'm thankful that it helps me with my wellbeing.
Dionne bravely detailed her transition to University life, including the honest difficulties she faced, along with the clear positives she gained from joining the lacrosse team. Dionne has learned vital pillars of support, utilising exercise, sport, music and the great outdoors. Coming to University and thriving socially and academically can be challenging. Dionne has shown that with an open mind and a desire to meet others, her student experience has flourished thus far. When beginning University, there may be a set of intrinsic and extrinsic expectations of a student's experience. Sometimes these are exceeded or possibly not met. Branching out, with regards to your social network, in the form of joining a sport is an excellent idea.
With any diagnosis, learning about it is key. Exploring your own stress triggers, emotions and symptoms is beneficial and can help you adapt to elements of your life that may otherwise be extremely difficult. Reaching a point of diagnosis doesn't have to be a difficult label over your head, it can be something you learn to manage, process and work around. We are constantly evolving and finding new ways of coping and managing aspects of our life, such as time management, financial management. Our mental health and emotional regulation are no different.

Useful Resources
Lastly, if you are struggling to find coping strategies around a diagnosis of ADHD, academically or socially, the University's Student Wellbeing Service are an excellent means of support.