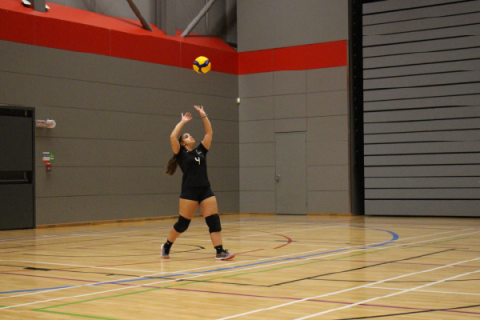 Read Carolina's story about the difficulties she faced as an international student and how sport helped her overcome them
Our sporting minds campaign is running throughout the entire month of March 2022. This campaign aims to raise awareness of mental health issues through sharing stories from members of our sports clubs. These stories are honest, open and extremely helpful, showing readers that they are not alone in their struggles and giving examples of healthy coping mechanisms and outlets for dealing with complex feelings. We hope that this campaign inspires conversations between you, your friends, family and teammates. We have also supplied a number of resources below if you are affected by this story.
Carolina is the president of the Team UOP Volleyball Club and this is her story. 
Sports have been a part of my life since I can remember. It has always been a great way to destress and meet new people. When I'm playing, I'm not worrying about anything else and that is one of the best feelings in the world. 
When I moved from Portugal to England for Uni, it was quite a daunting experience since I knew absolutely no one. I tried to get involved in as many events as possible and that's when I came across the sports club and decided to go to a few sessions. Volleyball had my heart from the moment I stepped into that sports hall - so many international people and such an amazing atmosphere, it felt like I belonged. 
It became my huge, amazing and dysfunctional family who I shared incredible moments and memories with. Don't get me wrong, there have been ups and downs but overall my love for this sport and the people involved in it helped me surpass any difficulties or drama. I truly believe that without it I wouldn't have made it through these last 3 years and COVID revealed the incredible bond I have created with the people I met through the club.
It was heart-breaking when quite a few of these people graduated because it felt like life had moved on for them and I am still in the same place. Unfortunately, I have grown and realised this is the hardest part of University life, it all feels quite temporary. Some people are just passing through your life. However, I learned to look at it from a positive perspective, it allows me to meet so many different people from different backgrounds and I know I have created lifelong bonds. Plus, with so many international friends, I get to visit the world and I will always have someone to show me around.
As a new student, I know how scary it is to be in a new city, a new country and how much it can affect your mental wellbeing. But you don't have to face it all alone, get involved and push yourself out of your comfort zone and you will see how many opportunities will present themselves to you. Just gotta take that first step!
Carolina bravely took a daunting step in going to University in another country. It's ever so common for international students to experience these thoughts and feelings when they arrive in a brand new country, with a completely new culture, an absent circle of friends to begin with, and even things like the weather differences!
Finding volleyball was clearly Carolina's solace, where she found purpose, identity and a family away from home. My advice for any student coming to England, would be to look at finding yourself a new society or club to join. Think about what you've always wanted to try or what may remind you of home. There are many people in that very position you are in, looking to gain a new, exciting sense of belonging. Also, be self-empathetic and take the time to proudly acknowledge the new skills you've developed when studying abroad. Inevitably, they're highly transferable to other areas of your life after University.
If you find you're struggling with aspects of homesickness, reach out to your family and friends back home, utilise the support networks of new ones you've made and seek out the excellent support available at the University. With the revolving door of University life, friends and teammates will come and go. Do your best to maintain those friendships and enjoy the prospect of meeting up after University life is over. I'm sure that Carolina, like many who join sports clubs, will have made friends for life.
Are you struggling with any topics raised in this story?
We have provided links to helpful resources for support below. 
Has this story inspired you to join one of our sports clubs? You can find out more information on our website.