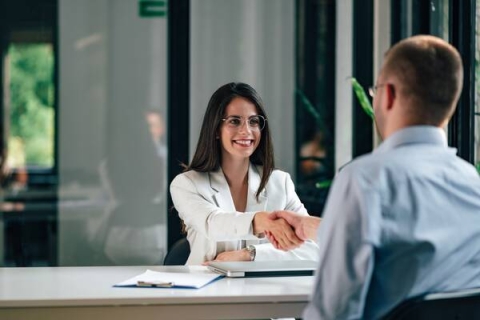 Carrington West have put together a range of interview tips to help you on your search for employment
As part of our EmPLAYability campaign, we have teamed up with our sports club sponsor and highly successful recruitment company Carrington West. Carrington West is an award-winning company that provides high calibre talent to the UK highways,  transport and infrastructure, town planning, water and environmental, utilities, power and telecoms, building and rail industries. They have kindly put together a range of tips to help you in your search for employment.
Interviews can be incredibly daunting, especially when they are your first one since graduating. However, it is important to remember that as long as you prepare for the interview, you should be extremely well equipped to deal with everything the interviewer throws at you. Not only this, but an interview is a 2-way street, although you need to sell yourself to the interviewer, it is the role of the interviewer to sell the company and the role to you. Nearly 7 in 10 (69%) companies have reported talent shortages and difficulty hiring –a 15-year high. From August 2021-October 2021, UK job vacancies hit an all-time high of 1.219m and the number "continues to increase across most industries" (The Office for National Statistics). In the current market, candidates are in a strong position, but this doesn't mean you won't be asked tough direct questions. Carrington West have put together a range of tips to help you prepare for your interviews.

Research the company who you are interviewing with
Employer - Researching the company will not only provide you with more confidence and knowledge, but it will also help you to get a feel about whether the company is right for you. A good place to start is the company's website, this will help you understand the sector they operate in, all of the products and services that the company offers, projects that have recently been completed and their cultures and values.
Role - Make sure you have read the job description a few times so that you are 100% sure of what the role involves and the employer's expectations. Then you can start to see how your skills, experience and qualifications match what will be required of you. This will provide you with a solid basis when it comes to explaining why you want the job, demonstrating that you understand the role and it will help you to present a case on why you should be chosen over other candidates. 
 
Prepare for the interview
Common questions -  When preparing for your interview, you should consider common questions you may be asked and preplan your responses to them, this way you are less likely to be caught off guard. 
Answering questions - Try to be as clear and concise as possible so that the interviewer isn't left guessing about any aspects of your answer. Also, make sure that your answers have substance, instead of just telling the interviewer your skills, give examples of where they have been utilised and how it was beneficial. 
Ask your own questions - From your research, you will be more likely to be able to come up with your own questions for the interviewer too. Asking the interviewer questions will demonstrate your interest in the company and role and will provide you with more information so that you can make sure that the role is right for you. 
Video interviews - Although it is not good to be seen reading from notes, you can make the most of your video interview with prompts. Covering your desk or computer with post it notes, with one word prompts to help you remember things like key statistics from project outcomes can be incredibly helpful. Using the screen share function can be extremely useful for showing previous work you have produced. Make sure you create a quiet environment that won't be distracting and double-check that all of your technology is working beforehand. 
On the day of your interview
Give yourself time - Whether your interview is in the morning or afternoon, make sure that you give yourself plenty of time to get ready for and get to your interview. There is nothing worse than the panic of running late or forgetting things, so allowing yourself plenty of time before will help to alleviate some of the stress. 
Be presentable -  Make sure that you are dressed appropriately as this can demonstrate to your employer that you have made an effort and are therefore serious about the job. First impressions count, so present yourself in a way that you would like to be remembered for all the right reasons. 
Think before you answer - In situations where we feel pressure there is a tendency to rush, in the hope to get it over and done with. However, in your interviews, it is important to remember not to rush, allow yourself time to think about the questions you are being asked and how best to respond to them. This way, you are less likely to get flustered and answer the questions more confidently.
Showcase yourself - As well as answering all of the questions that you are asked in your interview, try to show your personality too. If you are upbeat, enthusiastic and show you are interested, the atmosphere will often be much more relaxed and the interviewer will be able to see you for who you are, not just form an opinion based on your answers alone.
If you are interested in finding out more about Carrington West, after reading this, you can visit their website. Carrington West may be particularly of interest to you if you are considering a career in UK highways, transport and infrastructure, town planning, water and environmental, utilities, power and telecoms, building and rail industries, or if you wish to work in recruitment.
If you would like to book a mock interview or need help with anything relating to your career, we can help.