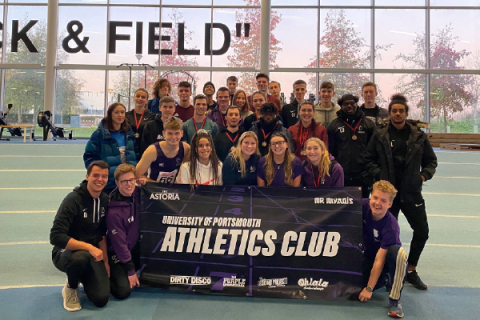 Charles is a former Team UoP Athletics Club member, find out about his career after university.
As part of our EmPLAYability campaign, we are sharing stories from UoP Alumni who were also members of Team UoP during their studies. These stories are focussed around their careers after university and the benefits of playing sport at university.
Charles is UoP alumni and was a member of Team UoP Athletics Club during his studies. He is now a member of the Department of Sport and Recreation staff team here, at the University of Portsmouth. 
What did you study at university?
I studied for a postgraduate degree in MSc Sports Performance in 2019-2020 at the University of Portsmouth after completing an undergraduate degree in BSc (Hons) Sports Coaching at the University of Winchester.

Did you know what career you wanted to embark on upon finishing university? Did this change once you started looking for jobs?
I knew that I wanted to go down the sports career path as I've been involved in sport for most of my life and sport is my biggest passion, having successfully achieved an Undergrad and Postgrad degree and competing in multiple sports. As well as this, my multiple sporting achievements and accomplishments outside of university made me focus on sport-related jobs to enable me to achieve more accomplishments in sport. So my career path didn't change when I started looking for jobs.

How did you come across your current job?
I started looking for jobs through Linkedin and Indeed when I finished university. Every now and again I looked at the University of Portsmouth website for any possible sport-related jobs, as it was an organisation that I knew well, having completed a Masters's degree there and knowing Portsmouth as a city too. 
A year later in the late summer of 2021, I saw the Job title 'Sports Operations Assistant'for the Department of Sport and Recreation at the University of Portsmouth and was very intrigued. I applied for it and got the role in October later that year.

Which sports club(s) were you a member of?
I joined the University of Portsmouth's Athletic team during my Master's competing in both Long Jump and Long-distance running.

How did playing sport at University help you in your career?
Playing and competing at a high level made me a strong and more confident person. This helped me develop not just as a person but also as an athlete. Also, being part of a team made me a strong team player and have high team morale supporting teammates, as they would do the same for me. 
The skills I developed in sport at Uni helped so much in a team environment with the confidence in decision making, communication and the support of the team that continued going into my current role, together everyone achieves more.
How does working life compare to university life?
Work-life and University life are two very different lifestyles. Work-life is having stability, routine and structure for your career and keeps you organised. My work life for my current role keeps me active physically a lot of the time which is something I also work on in my spare time.

What advice would you give to your former self when transitioning from university to work-life?
Always have something to aim for both short and long term. Having aims will keep you motivated to push yourself until you achieve your goals both in and out of work. 
If you're confident, happy and motivated, adapting from Uni to work life will be a lot more exciting and stress-free. Also, live life to the fullest the way you want and take the opportunities that you're given.

What are your plans for the future?
I plan to continue working with and representing Sport and Recreation at the University of Portsmouth as I envision myself being successful within the department. My future plans both for work and in my personal time are inspired by the Sport and Recreation 2025 goal, the University of Portsmouth's 2030 vision, and my life sporting ambition. 
I love working for the Department of Sport and Recreation and my future plans for work are to continue to work for them within the Sports Operations team and rise through the ranks. I aim to progress into a Senior Operations Assistant role by the end of 2025 and then after that progress into a Sports Duty Supervisor role by the end of 2030. 
In my free time, I plan to fulfil my sporting ambition by competing in main sport, long-distance runs of 10Ks, half marathons and marathons, both inside and outside of Europe. This will enable me to do what I love best in sport, compete.
Charles, Team UoP Athletics
Charles is on the right path to achieving his long term career goals and combining his job with his passion of sport. We are so glad that he has chosen to remain a part of the university, even after finishing his studies and we look forward to seeing his future achievements in both work and sport. 
Careers and Employability Service
We also have services here at the University that will be useful to utilise on your search for employment. Our Careers & Employability Service is able to support you for 5 years after you graduate.  So if you'd like some help with your job search, your CV, or want to talk through your options with one of our qualified Careers Advisors then why not contact the team today at careers@port.ac.uk.
If you are specifically looking for a graduate job in Hampshire or along the South Coast then we also have a specialist Graduate Jobs team in place to help you get the right opportunity. They are on hand to source opportunities and make introductions for you to local employers, tailor your CV and help you prepare for interviews. Watch our video to hear more about how they are able to help you with your next steps. Should you wish to discuss the role you are looking for with the Graduate Jobs Team, please contact them at graduaterecruitment@port.ac.uk. You visit the Careers and Employability page to find out any additional information. 
Playing sport whilst at university can provide you with a whole range of skills that will help you on your search for employment.