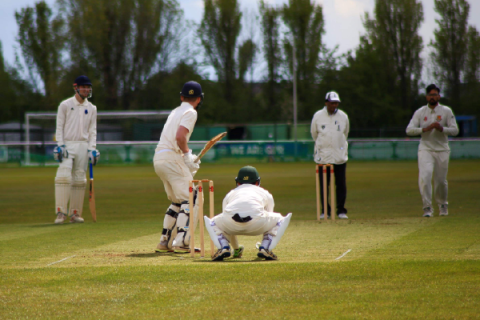 Marcus is UoP Alumni and was a member of multiple sports clubs and Vice President of Sport. Find out about his career after his studies.
As part of our EmPLAYability campaign, we are sharing stories from UoP Alumni who were also members of Team UoP during their studies. These stories are focussed around their careers after university and the benefits of playing sport at university.
Marcus is UoP alumni and was a member of Team UoP Men's Rugby, Cricket, Hockey and the Ski and Snow Club as well as Vice President of Sport. He has continued following his passion for sport and now works at Oxfordshire Cricket. 
What did you study at university?
I studied Exercise and Sport science and I completed my post graduate in Sports Performance.
Did you know what career you wanted to embark on upon finishing university? Did this change once you started looking for jobs?
I always knew that I wanted to be in the sports industry but I didn't know what this would look like during my studies. During the course I then moved towards Strength and Conditioning (S&C). This was mainly down to Gemma Milligan who channelled me towards some work placement opportunities within S&C at Portsmouth Rugby Club
How did you come across your current job?
The Chairman at Oxfordshire Cricket recommended I apply for the Talent Pathway Manager role whilst playing for the Men's side during their red ball campaign. The job was a blend between cricket coaching and S&C which suited me perfectly.
Which sports club(s) were you a member of?
I was fortunate enough to be part of the Rugby, Cricket, Hockey and Ski society at University.
How did playing sport at University help you in your career?
My sport at University played a pivotal role in applying for the Vice President of Sports role at the Portsmouth Union. This role gave me the skills I needed to develop more of the work based lessons that were needed to progress in my career. In terms of my career the Club captaincy role for the Rugby club was a great introduction to administrative tasks and leading large groups of people. I also had a chance to build my network by being part of different clubs including the cricket society. My first job at a professional cricket club was a result of my friendships within the club. I was then also fortunate enough to employ an alumni from the cricket club in my current role at Oxfordshire. A small world!
How does working life compare to university life?
There are comparisons you could draw from University life but I think the skills are slightly different. University helps builds the foundation of research based practice and the ability to write scientifically. During my current role a lot of my communications are towards parents and other coaching staff which lends itself to a different communication style. Some of the transferable skills come when you have to balance lots of different competing priorities and the ability to understand the contemporary literature within sports coaching.
What advice would you give to your former self when transitioning from university to work-life?
Everything takes a lot of time, more time than you thought. Big goals that I thought would take 3 months often take upwards of a year!
What are your plans for the future?
Plans for the future are to hopefully represent Italy cricket in Uganda in the World cup qualifiers. I aim to continue at Oxfordshire and build a strong pathway that develops first class cricketers year upon year. I am lucky to have incredible people around me who continue to push me and teach me about the details of talent development and organising pathways.
Careers and Employability Service
We have services here at the University that will be useful to utilise on your search for employment. Our Careers & Employability Service is able to support you for 5 years after you graduate. So if you'd like some help with your job search, your CV, or want to talk through your options with one of our qualified Careers Advisors then why not contact the team today at careers@port.ac.uk.

If you are specifically looking for a graduate job in Hampshire or along the South Coast then we also have a specialist Graduate Jobs team in place to help you get the right opportunity. They are on hand to source opportunities and make introductions for you to local employers, tailor your CV and help you prepare for interviews. Watch our video to hear more about how they are able to help you with your next steps. Should you wish to discuss the role you are looking for with the Graduate Jobs Team, please contact them at graduaterecruitment@port.ac.uk. You visit the Careers and Employability page to find out any additional information. 
Playing sport whilst at university can provide you with a whole range of skills that will help you on your search for employment.