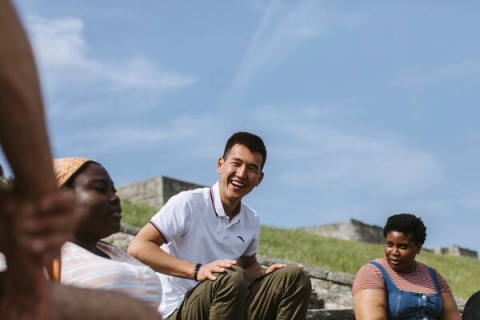 Getting the most out of your university experience.
Starting university soon and unsure of what to expect? It's completely normal to base your expectations on what family and friends have told you, or to have your own ideas of what to expect. Try to remember that your university experience is what you make it, it's down to you to decide what to involve yourself in to make sure you have the best experience possible for you. 
 
We hope that this blog will provide you with valuable information on what we offer here at the University of Portsmouth to make your experience as enjoyable as possible, as well as offering some useful tips on how to get the most out of your time here.
Make use of St.Paul's Gym/ Ravelin Sports Centre
Did you know that keeping your body active can also help with keeping your mind active too? When you take part in regular exercise you generally have a greater overall level of wellbeing which will in turn help you to perform better academically (British Active Student Survey, 2019). So, you may be wondering what we offer to help you to stay physically active. You'll be pleased to know that you can get access to St. Paul's Gym for just £7.50 per month when you sign up for an Ultimate 50/50 Membership. This will give you access to the gym itself and other facilities such as outdoor pitches, our sports hall, squash courts and more. Your membership will then convert into a Ravelin Sports Centre Ultimate membership once it opens. You'll be the first on the start line and be invited to VIP access to try out the facility before we open officially. We hope that you are as excited for the opening of our outstanding new sports centre as we are.
Join our Sports Clubs
We know that when you think of university, you definitely think about the social opportunities available, and we can't blame you! University is often a place where friends for life are made. As well as inevitably attending every night out you possibly can, our sports clubs can also aid with making friendships and create opportunities to socialise with like-minded people. We currently offer over 35 different sports clubs which provide you with the perfect opportunity to make friends, get involved in something new, or develop in the sports that you already know and love. Our sports clubs will provide you with the perfect active routine that works in conjunction with your studies. You are able to meet like-minded students who have similar interests to you, helping you to balance your studies and social life. Does this sound perfect for you? You can join any of our sports clubs today!
Make sure you are well-rested
Sleep is definitely the last thing on your mind when starting your university experience, that's normal. However, you may find you are not getting the most out of all of the social events and activities you are attending when you're only surviving on a few hours of sleep. We understand that fear of missing out can force you into signing up to and attending absolutely everything you can, but you will most likely find that this will eventually catch up with you. Although it is recommended that adults should get between 6-8 hours of sleep each night, we know this is somewhat unrealistic, especially at the start of your experience. To avoid feeling like a zombie during university, it is completely within your power to set aside an adequate amount of time to sleep, relax and recharge, ready to take on all that the next day brings. For more tips and advice on why sleep is important check out our article on the importance of sleep.
Nutrition
Equally, it can be extremely tempting to opt for takeaways as your main food source throughout your time at university, they are convenient, tasty and we often crave them. We'd be lying if we said that takeaways aren't incredibly tempting for all of us. Unfortunately, as much as we'd all like them to, they generally do not provide the nutrition we need to get as much energy as we would hope for. We recommend adopting a balanced diet. Still, make sure that you treat yourself, but in moderation. A nutritious diet can positively impact your energy levels, grades, wellbeing and as a result your overall enjoyment at university. We are sure you would agree that slight diet changes are a small price to pay for a more enjoyable time at university!
Sticking to a routine
Sticking to a routine… sounds simple, right? It is often much easier said than done. After planning out your routine, you will probably find that getting into it initially is the hardest part, but once you are in one, it will feel like second nature. You will be astounded by how much you can actually fit into each day once you have your routine in place. Studying, socialising, exercising, preparing and eating meals, relaxing and more can all fit into your routine, as long as you plan ahead. We find that routines can make life less overwhelming and stressful, allowing more time for enjoyment and productivity and less time for stress.
We hope that this article has provided you with some useful tips on how to make the most of your experience at university. Enjoy!