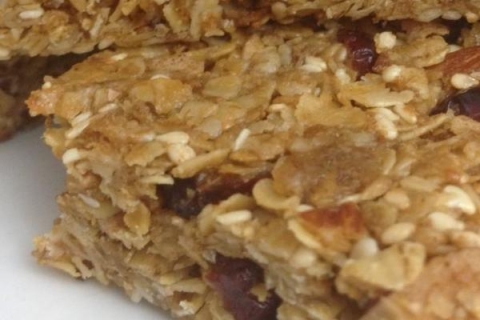 Need a healthy snack? These Granola energy bars that are packed with nutritional goodness
Let's get our snack on, not the crisps and biscuits type, the healthier but equally as tasty snacks. Get these in your life and the best thing is you don't even need to cook them.
Ingredients
180g Porridge oats
45g Pumpkin seeds
30g golden linseeds 
60g puffed brown rice cereal 
45g raw almonds 
30g chia seeds
45g dried cranberries 
30g goji berries 
100g organic virgin coconut oil or butter
100g light brown sugar 
150g honey 1 tsp ground cinnamon
75g dark chocolate (chopped)
Method
Preheat oven to 180 ℃
Spread the oats, pumpkin seeds and linseeds out on a baking tray. Toast in the oven for 8-10 minutes.
Line a 20cm square tin with a baking sheet.
Once the seeds are cool, place them in a large bowl along with the puffed rice cereal, almonds, chia seeds, dried cranberries and goji berries. Mix it all together. 
Place the coconut oil/butter, brown sugar and honey in a pan and heat gently until the sugar has dissolved. Bring to boil and let it bubble for 60 seconds. Remove from the heat, then add the cinnamon. Pour this all over the oat mixture.
Once cool, stir in the chocolate.
Spread the mixture evenly across the baking tray and pack it down well.
Place the tray into the fridge set for at least 1 hour.
Cut into slices and enjoy.
Calories per serving: 339
Carbs per serving: 46g
Fat per serving: 17g
Protein per serving: 14g