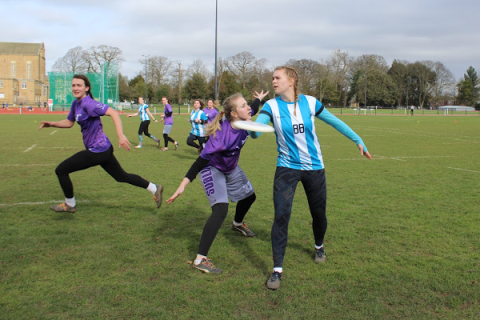 Kathryn is a former Team UoP Ultimate Frisbee club member, find out about her career after university.
As part of our EmPLAYability campaign, we are sharing stories from UoP Alumni who were also members of Team UoP during their studies. These stories are focussed around their careers after university and the benefits of playing sport at university.
Kathryn is UoP alumni and was a member of Team UoP Ultimate Frisbee Club during her studies. She now works in the marketing team for a charitable organisation.
What did you study at university?
I studied Creative Writing.
Did you know what career you wanted to embark on upon finishing university? Did this change once you started looking for jobs?
I wasn't too sure what I wanted to do after university, just that I wanted to spend my time writing. I had taken on two marketing internships as a student which I had enjoyed, so decided to pursue that.
How did you come across your current job?
I found my current job working in the marketing team for a charitable organisation on a job vacancy website. (Indeed)
Which sports club(s) were you a member of?
I was a member of Ultimate Frisbee for all three years I was at Portsmouth.
How did playing sport at University help you in your career?
Playing frisbee helped make my CV more interesting and to stand out against other fresh graduates. I was Vice President and then President of the team, so the skills and responsibilities I learnt and took on during that time are very desirable for recruiters. But, so are the interpersonal skills I had to be a part of a team, so you don't have to be on the committee to include it in your CV or bring it up in an interview.
How does working life compare to university life?
I miss student life! Working life is a lot more full on, with a full time job and still trying to have a social life, but you find that balance. Plus, the money is nice! 
What advice would you give to your former self when transitioning from university to work-life?
Stick at it! Applying and getting rejected for jobs is tough, but eventually, you'll find one you enjoy. For me, it was like a bus where two job offers came in on one day after months of nothing!
What are your plans for the future?
I'm in the middle of trying to make a move to progress my career, so hopefully, I will pull that off soon. I would also like to adopt a cat(s) in the near future and get back to playing ultimate frisbee for a new club.
Kathryn, Team UoP Ultimate Frisbee
Careers and Employability Service
We have services here at the University that will be useful to utilise on your search for employment. Our Careers & Employability Service is able to support you for 5 years after you graduate. So if you'd like some help with your job search, your CV, or want to talk through your options with one of our qualified Careers Advisors then why not contact the team today at careers@port.ac.uk.

If you are specifically looking for a graduate job in Hampshire or along the South Coast then we also have a specialist Graduate Jobs team in place to help you get the right opportunity. They are on hand to source opportunities and make introductions for you to local employers, tailor your CV and help you prepare for interviews. Watch our video to hear more about how they are able to help you with your next steps. Should you wish to discuss the role you are looking for with the Graduate Jobs Team, please contact them at graduaterecruitment@port.ac.uk. You visit the Careers and Employability page to find out any additional information. 
Playing sport whilst at university can provide you with a whole range of skills that will help you on your search for employment.