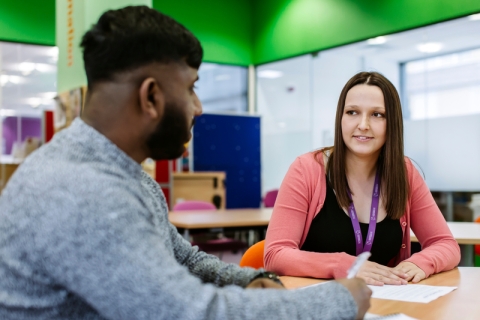 Carrington West have put together some CV writing tips to help you to present yourself in the best way.
As part of our EmPLAYability campaign, we have teamed up with our sports club sponsor and highly successful recruitment company Carrington West. Carrington West is an award-winning company that provides high calibre talent to the UK highways,  transport and infrastructure, town planning, water and environmental, utilities, power and telecoms, building and rail industries. They have kindly put together a range of tips to help you in your search for employment.
Your CV is all about selling yourself. It is the first impression that your prospective employers will have of you, so it's important to make sure that you present yourself well and demonstrate that your skills, experience and qualifications align with what is required for each job you apply for. However, when embarking on your career after university, or even applying for jobs during your studies, you may be unsure of what employers in your industry are looking for and therefore what to include in your CV. Luckily, our team here at Carrington West are no strangers to recruitment and have put together a number of things to consider when writing your CV.
CV Structure
Knowing the best way to structure a CV is often the first hurdle that comes with CV writing. However, it will be pretty much the same for any job you apply for, so once you've mastered getting the structure right, applying for jobs will be much easier.
Opening profile
We recommend starting off with a detailed opening profile. This should provide the employer with an overview of who you are, the strengths you have that are relevant to the specific industry or job role and your career goals. Make sure that your opening profile is completely specific, otherwise, the employer won't gain any real insight into you as a person. This opening profile is the perfect opportunity to make a good first impression and present yourself in a positive way.  Although the length of your opening profile is completely up to you, a rough guide for how long it should be is around 6-8 lines.
Key skills
It's important to make sure that all of the key skills you possess are listed on your CV. This section can include things like the IT packages and other programmes that you can competently use, foreign languages you speak, and the key skills you have that are relevant to the job you are applying for. Make sure you do not exaggerate your abilities, as it is likely that you will be asked to back it up with specific examples if you get to the interview stage.
Relevant work experience
List all of the relevant work experience you have in reverse date order. Make sure that you include the name of the company, your job title, how long you were there and all of the roles and responsibilities you had. If you have a vast amount of relevant work experience, this should come before the education section of your CV.
Education
You should list all of the qualifications you have, with the most recent qualifications first. In this section, you should include the types of qualifications you have achieved, grades and dates. You can also mention specific modules you have studied, but we only recommend this if they are specific to the role you are applying for. 
Non-relevant work experience
Even the work experience you have that is not relevant to the job you are applying for is important to list. This can show prospective employers that you have a range of other skills that may not necessarily be needed for the job, but are still beneficial.
Hobbies and interests
Your hobbies and interests probably aren't going to be a deal-breaker for employers, but you may have developed skills through your hobbies that would be advantageous in a work environment. This is the perfect time to mention if you were part of a sports club at university, or if you are part of any other clubs outside of university. In this section, you can include the sport(s) you play, the number of years you have played, any awards you may have won, and the number of hours you put into training. Use action words to describe the skills you have learnt as a result of taking part in sport e.g. leadership, teamwork, communication, time management, commitment. Feel free to add any other hobbies too for example reading, travelling, blogging, or anything else you may enjoy and the skills that they have equipped you with. 
Tailoring your CV
Making small changes to your CV when applying for different jobs can make a big difference to your chance of success. Make sure you read each job description thoroughly and mimic keywords and phrases. Prioritise your achievements and experience to best meet the requirement.
Getting noticed
Mention an interest in the job/ field/ discipline in your opening profile.
Don't over design your CV. Simple is better. 
Stick to a regular format.
2 pages is enough. 
Use keywords related to the job you are applying for in your CV.
We hope that these useful tips will make your search for employment and the CV writing process easier, or give you the confidence that you're on the right track.
If you are interested in finding out more about Carrington West, after reading this, you can visit their website. Carrington West may be particularly of interest to you if you are considering a career in UK highways, transport and infrastructure, town planning, water and environmental, utilities, power and telecoms, building and rail industries, or if you wish to work in recruitment.
If you need help with job hunting, interviews, CV writing or anything relating to careers and employability, we can help.