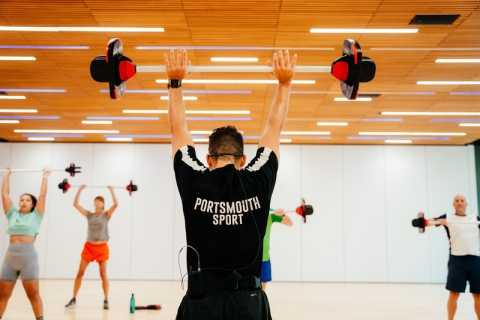 New to exercise, new motivations or just haven't checked in for a while our tips will get you started
So many of us would like to improve our overall fitness, and what better time to do it than at the start of a new year? Many of us plan to make big changes as part of our New Year's resolutions, but don't quite get round to doing them once the Christmas break is over and we're all back at uni or work. So, what's stopping us from going ahead and actually making changes? 
To stay healthy "adults should try to be active every day and aim to do at least 150 minutes of physical activity over a week, through a variety of activities." (UK Chief Medical Officers' Physical Activity Guideline, on GOV.UK). Despite the clear health benefits of exercising, there are a number of reasons for being reluctant to start our fitness journeys such as feeling overwhelmed about where to start, being unsure of how to squeeze exercise into a busy lifestyle, not feeling motivated, low-confidence and more. However, it is important to consider the vast range of benefits that improved fitness provides. One of the most notable benefits of exercise is the impact on health "It can reduce your risk of major illnesses and lower your risk of early death by up to 30%" (NHS, 2021). 
Starting is often the most difficult part, so don't be disheartened if your fitness journey doesn't begin exactly the way you'd hoped. Once you're in the routine of exercising regularly, not only will it gradually get much easier, your improvements over time will also push you to want to continue
1. Make the commitment to yourself
The first step of embarking on your fitness journey is to make the commitment to yourself to start. After all, if you don't believe that you will be able to do it, chances are you won't. Mindset is a powerful thing, so ensuring that you are determined to actually make that commitment is extremely important and will significantly aid with your future success. Write down what you want to achieve - write it somewhere you'll see it everyday or somewhere only you will see. Writing your goal down makes it real. When you are not fully committed to improving your fitness, you are destined for failure before you have even started. Make sure you tell yourself that you are 100% ready to make changes, stick to your goals and succeed. 
2. 

Start small
Even if your fitness goals are to be able to run long distances or lift heavy weights, it's important that you build up to this gradually. Setting yourself goals that are unrealistic can cause you to become extremely unmotivated and feel like you are failing, even when you aren't. Use your calendar, set your self reminders and block out your time so you make time for you. Instead of planning to exercise 5 times a week for an hour when you're just starting out, it's worth considering starting with a couple of times a week for 30 minutes for example. From this you can gradually build up as your fitness improves, increasing the length of time you exercise and the intensity of your workouts. 
3. Remember something is better than nothing
Some days can turn out to be much busier than originally planned, which can mean that you no longer have the time that you had set aside for exercise. It is important to note that even a small amount of exercise is much better than nothing at all. If you can find even just 10 minutes to fit in a run or training, it helps with sticking to your routine, still feeling accomplished, and improving fitness. Intervals are a great way to squeeze in a great workout with limited time. Try 8 intervals with a time ratio of intensity to rest of 2:1, for example, 20 seconds effort, 10 seconds rest, or 2 minutes work to 1 minute rest. It's amazing how even a small amount of exercise can drastically contribute to your overall fitness journey. Alternatively - change that calendar invite to when you do have time.
4. Make sure you are fuelling your body correctly
When going from not exercising very much or at all to exercising frequently, your body is going to be using up more of your energy. This means that you need to ensure that you are eating foods that provide the energy levels you need. How can you expect to progress if you are not providing your body with the nutrition it needs? Minimally processed foods are the best option. Lean protein will help your body to build muscle, whilst also keeping you full. If you are unsure of where to start with nutrition, you can get tailored advice when you book on to personal training sessions. You can book a free 15-minute consultation via the UOP Sport app with one of our personal trainers to get started.
5. Build support
One reason that people may abandon their fitness goals is due to lack of support. Whether it's a friend, family, member, colleague, personal trainer or even an online community, it can be extremely beneficial having someone or a group of people helping you on your journey. On the most difficult days when you feel like quitting, the support you have around you can really make all the difference.
If you are unsure of how to make the first step in building your support system, why not come along to one of our group fitness classes? You are bound to start noticing some familiar faces if you attend classes regularly, and this might be just what you need to push you to exercise on the days you'd rather skip your workout. If you prefer working out in your own headspace - one of our personal trainers can write a programme for you to follow so you can keep accountable. Our UOP Fitness app also allows you to create your own programme using the 'Tailored programs' tile.
6. Sign up to the gym
Signing up to a gym can help you to commit to exercising regularly. Paying money each month, or an annual fee can make you feel motivated to go, to avoid putting money down the drain unnecessarily. Not only will the costs attached to the gym push you to go, but the gym environment is also extremely motivating, as you are surrounded by people who are also aiming to achieve their goals. 
At the gym you will also have access to a wide range of equipment, in our case, you can regularly use top of the range Technogym equipment which can help with keeping your workouts varied and guide you along the way.
7. Do what you enjoy
If the gym or running isn't for you, this doesn't mean that other types of exercise won't be. When starting out, make sure you consider what you think you will enjoy most, as it will make exercise seem like less of a chore and something you might even look forward to. Here at Ravelin Sports Centre you can try all of the activities we offer to find the right fit for you. Climbing, swimming, squash, and fitness classes are sometimes overlooked as ways to improve fitness, but they will undoubtedly improve your overall fitness when done regularly. Don't limit yourself to activities that you know you don't enjoy, as it will reduce the chances of staying consistent. 
We hope that these tips will help you on your way to your fitness journey and achieving everything that you had hoped to in the long term.
Find out more about the activities you can take part in here at Ravelin Sports Centre.