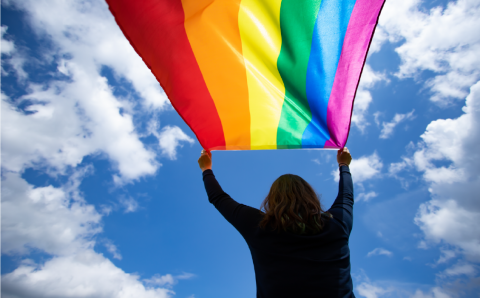 An anonymous story on experiencing homophobia and the importance of having a good support system
Our We Care About Not Caring Campaign continues with stories from Team UOP members. This campaign aims to provide insight into the lives and experiences of members of the LGBTQIA+ community. These honest and frank stories are an example of how sport and physical activity can play a part in providing a sense of belonging and combatting feelings of anxiety. We want to raise awareness for these stories and of the issues they look to challenge. These personal stories are powerful and should start up conversations between you and your friends, family, and teammates. We have also supplied a number of resources below if you are affected by this story.
Tell us about you...
I was the first person in my year group to come out openly as gay. I was in year 8 at the time. It was extremely hard not having anyone to relate to and talk to. I lost a lot of "friends" because they were embarrassed or scared to be seen with me. I use quotation marks because they weren't real friends. I experienced a lot of homophobia and bullying whilst I was at school and most of this bullying was due to my sexual orientation. I received death threats from multiple students, got chased, followed home. It was horrible. I even got excluded briefly "for my own safety" because the school I was at didn't want to exclude the person who said the death threats to me. This then led to a big decline in my mental health and me not wanting to attend school. I didn't have much support at school and not having anyone to relate to made me feel very isolated. The only sort of people I could relate to or talk to about how I was feeling were people online and I never got to meet any of those people. People saw the way I was treated and I think this then led to them being scared to come out. But now that I'm older, I have such a good support system in place and I feel extremely comfortable. 
Have you ever felt or experienced a negative situation due to your sexuality/gender identity within your sport? How did the people around react?
Not within the sport no!
What do you think Team UoP clubs and members can do better to make their LGBTQIA+ and transgender teammates feel safer within their sport?
More LGBTQIA+ charity work
If you could meet your younger self what advice would you give yourself?
To never stop being yourself. Express yourself as you want you and never be embarrassed.
We Care About Not Caring because...
Education
LGBT in Britain - Hate Crime and Discrimination is Stonewall's new research highlighting the shocking levels of hate crime and discrimination that LGBT people still face in Britain today:
One in five LGBT people (21 per cent) have experienced a hate crime or incident due to their sexual orientation and/or gender identity in the last 12 months
Two in five trans people (41 per cent) have experienced a hate crime or incident because of their gender identity in the last 12 months and one in six LGB people, who aren't trans (16 per cent), have experienced a hate crime or incident due to their sexual orientation in the same period
The number of lesbian, gay and bi people who have experienced a hate crime or incident in the last year because of their sexual orientation has risen by 78 per cent from nine per cent in 2013 to 16 per cent in 2017
Four in five LGBT people (81 per cent) who experienced a hate crime or incident didn't report it to the police
Three in 10 LGBT people (29 per cent) avoid certain streets because they do not feel safe there as an LGBT person
More than a third of LGBT people (36 per cent) say they don't feel comfortable walking down the street while holding their partner's hand. This increases to three in five gay men (58 per cent)
Signposting