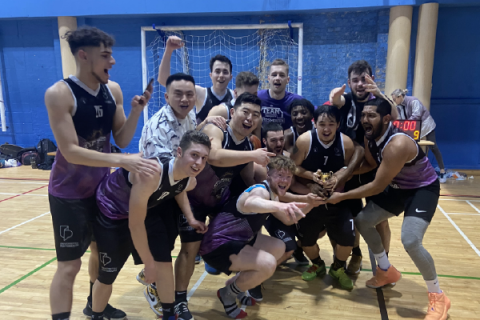 We retained the Intramural Varsity cup for the second year in a row and held a successful world cup style tournament.
Recently we have been talking a lot about all of the highly competitive sporting events that have been taking place over the past few months. From BUCS competition successes to the highly anticipated Varsity weekend. However, we thought that it is also important to highlight the less competitive options we have been offering recently. These events aim to be all-inclusive, for people of all levels, who are looking to just have fun whilst playing sport without the pressures that come with sporting events where the stakes are high. Over the past weekend alone, the Department of Sport and Recreation successfully hosted a football tournament for Global week and a range of Intramural fixtures at Varsity in a variety of different sports.
Global week
Global week took place from 7-13 March, celebrating the incredible cultural diversity at the University of Portsmouth upon the arrival of some of our international students. 

In light of this event, we chose to get involved by hosting a world cup style 5 a side tournament. Our students came together to make up the following teams: Portugal, Nepal, Cyprus, Brazil, Spain, Chad, Italy, India, Germany and England. This tournament enabled over 80 students from all different backgrounds to come together, have fun and meet people that they may not have otherwise met. We have received excellent feedback and it was clear to see that everyone who took part really enjoyed the event. The tournament saw Germany win, whilst Cyprus came second and India came third. Due to the success of the tournament, we aim to offer similar events in the future to bring our students together and get them involved in sport. 
Intramural Varsity
 As well as the fixtures that our performance sports clubs took part in as they went head to head with Southampton at Varsity, there was also a separate Intramural Varsity taking place across the weekend including members of our development and campus sport teams. The intramural teams included 3 men's football teams, men's rugby,  mixed badminton, 2 netball teams, women's hockey, mixed tennis, mixed volleyball and men's basketball. Our teams performed extremely well and the overall score was 22-22, which meant that we were able to keep hold of the Intramural trophy for a second year. The intramural side of Varsity allows a much wider range of students to take part in the event, get involved, try something new and really feel part of something. We are so proud of all of the students that took part and helped us in defending the trophy.
I really enjoyed my weekend as a player and a spectator at IM Varsity. I feel as though the University worked really hard, ensuring everyone got their chance to play over the weekend. As a captain of my team I appreciated the communication from Sport & Rec before and during Varsity, they made sure I knew where to be and what to do at all times to make life easier for the team. I also thought the set up of IM Varsity was well organised, any barriers that could have impacted the flow of the weekend were sorted out immediately. Overall it was a great weekend and I enjoyed the opportunity to compete at IM Varsity.
Semester 3 PLAY sessions
Did you take part in the Global week World Cup tournament or intramural Varsity? Or do you wish you did? We are continuing to run PLAY sessions throughout semester 3, which is the perfect opportunity for you to get involved in sport, have fun and make friends. The PLAY sessions include a netball campus league, 5, 6, 7 and 11 a side football league and a touch rugby league. You can find out more information on these on the relevant sports club pages. If you already have a gym membership with us, you can access any of our PLAY sessions free of charge, just make sure your book your place beforehand on the UOP Sport App. We look forward to seeing you there!
My team and I really enjoyed varsity, it was an experience. The sport as well as the sense of togetherness with our friends, families and the rest of the University's sporting community. We're so pleased that we were able to retain our win this year and hope to do the same in the future!
Global World Cup Tournament images
Intramural Varsity images
Going into Varsity in an IM sport was a great opportunity for everyone involved in the team. The weekend was brilliant from start to finish. After Covid, it was nice to come together as a university again.
Do you want to get involved in sport without the commitment? Our PLAY sessions are perfect!