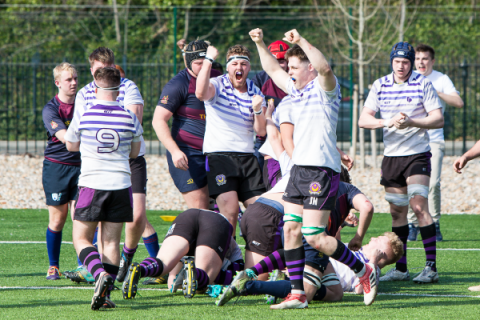 Varsity is back in Portsmouth featuring Team UOP against Team Southampton.
March 2022 will see the return of the annual Varsity Cup tournament between Team UOP and Team Southampton. This year we have the home advantage as the event will be hosted at HMS Temeraire and the University's sports facilities.
Join us on Saturday 12th and Sunday 13th March for an action packed weekend of sports, as a player or spectator.
Portsmouth won the Varsity Cup for the first time in 2013, can we do it again in 2022? Don't underestimate the power of home support; we urge you to get behind Team University of Portsmouth and help propel them to victory!
Over the course of the weekend there will be over 60 sporting fixtures. Outdoor sport will take place at the Royal Navy's flagship sporting facilities at HMS Temeraire, just across the road from the University Library. Indoor fixtures will take place at the University's sports facilities. 
As in previous years, tickets take the form of t-shirts. Both players and spectators must buy tickets to gain entry to all fixtures.
Tickets will be on sale soon, and the deadline by which you must purchase your ticket is Sunday 13th February 2022 at 12 midday.
 
Your ticket will include:
Official Team University of Portsmouth Varsity 2022 T-Shirt
Unlimited all weekend access across all Varsity venues at HMS Temeraire and Ravelin Sports Centre
Team University of Portsmouth branded merch and goodies
Discounted entry to the official Varsity 2022 after-party (exact entry times subject to confirmation)
Entry to the Varsity Village fan zone
Fixtures and more details will be announced on the Varsity Facebook Event.
Food and soft drinks can be brought into spectator areas. No food or drink is permitted within sports areas (such as the sports halls and pitches) No alcohol is permitted within any Varsity venue. Security will be present and bag checks will be in place.
Yes, you can sell your ticket/T-shirt to someone else if you are no longer able to attend. Please note, the University does not need to be notified of and is not liable for any resales.
No, alumni and other members of the community can attend as well as students.
Only full members of University of Portsmouth sports clubs can compete in Varsity.
Yes, all players and spectators need to buy a Varsity ticket to take part in the competition. All income from ticket sales goes towards the running of the event.