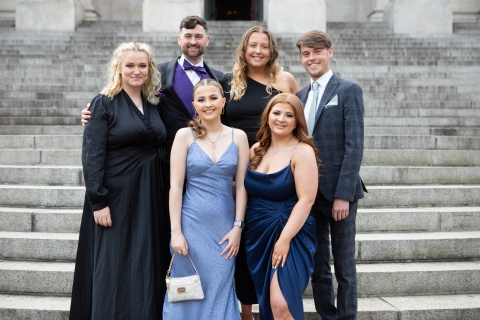 Our 6 volunteers have been recognised for their contribution to university sport and raising over £31,000 for charity
Our people are at the heart of all that is good at the University. The Vice-Chancellor's Awards for Excellence celebrate students, staff, alumni and members of the community who have made an exceptional contribution to the University, its values, its ambition and its success, as set out in the University Strategy.
We're delighted to announce that the Team UOP Executive Committee (Team UOP Exec) have been awarded a Vice-Chancellor's Award for Excellence for their fantastic contribution to Sport and Recreation and students across the university in 2021/22.
The Team UOP Exec are 6 dedicated volunteers, annually elected by their peers to work alongside Sport and Recreation staff. They're responsible for the student voice, campaigns and education for the University's student sports clubs known as 'Team UOP'. 
The Team UOP Exec cover all aspects of sport, from competition and performance to raising the profile of sport, educating students both on and off the pitch, fundraising for national and local charities, and enhancing the University's civic footprint by contributing to the local community. In 2021-22, the Team UOP Exec have helped raise £31,000 for charity. The Team UOP Exec raise the profile of sport and the University by using social media and positive representation throughout their areas of work, they have built partnerships with local charities with fundraising and events with local schools by offering Team UOP students the opportunity to deliver sports coaching outreach work and with local businesses to ensure they are accountable for student safety in social settings. They have worked collaboratively with Sport and Recreation to develop an identity for sport at the University of Portsmouth, promoting a culture of 'Portsmouth for Life' for alumni relations.
Innovation
The Team UOP Exec have created and promoted over 20 awareness and educational campaigns this academic year including;  Mental Health and Wellbeing, Consent, Alcohol and Anxiety, Staying Safe on a Night Out, International Women's Day, Drink Spiking and Victim Support, Loneliness at Christmas, Pride History Month, Silvercloud and Accessing the Student Wellbeing Service, and Sporting Minds. Additionally, they supported the 'Girls Night in' movement, writing to all bars/nightclubs in the City giving student feedback on safety in the nighttime economy to hold the establishments to account and stipulating how bars/clubs can ensure students feel safe. The Team UOP Exec worked in collaboration with Sport and Recreation and the University of Portsmouth Students Union to promote Pride History Month; educating students, raising awareness of LGBTQIA+ Team UOP members with the joint 'We Care About Not Caring' stories and using rainbow laces to underpin the support Team UOP have to the LGBTQIA+ community. 
Ahead of Varsity 2022 (Portsmouth vs Southampton), the Team UOP Exec's Welfare Officer created, coordinated and delivered 'Being an Active Bystander' education; delivering 13 workshops to nearly 200 Team UOP sports club committee members. They have truly shaped the direction welfare and education has in sport and their contributions have been invaluable and well-received by the student body.
Engagement
Dedicated to fundraising, the Team UOP Exec organised and delivered over 20 charity campaigns for national and local charities. Charity campaigns included; Movember, Green Week (mental health and wellbeing), Pink Week (breast cancer), Blue Week (prostate cancer), Reverse Advent Calendar (Southsea Food Bank), collecting donations for the Ukraine appeal, Easter Egg appeal for local children, White Ribbon Day (to support ending violence towards females) and Rainbow Laces Day. 
The local charities the Team UOP Exec have fundraised for include; Solent Mind, Portsmouth Pride Trust and Second Chance. All Team UOP clubs have so far raised £31,000 this academic year with the Team UOP Exec's Events Officer supporting Team UOP clubs by coordinating and delivering their own charity events alongside centrally run fundraising campaigns. 
It's not all about fundraising though, at the crux of Team UOP sporting performance is still a key goal for our clubs. The Team UOP Exec's Performance Officer delivered strength and conditioning sessions to several Team UOP clubs and created an online platform with resources on various aspects of performance for clubs to use. This online platform provides clubs with knowledge and advice to support the enhancement of individual and team performance, irrespective of their current performance level and is something that can be built upon for years to come.
Impact
The Team UOP Exec are passionate about using their experiences and the student voice to develop sport. They aim to empower their peers and to ensure student experience is at the forefront of everything that Team UOP promotes. As a group, they have created a community for students to feel welcome in and give a platform for Team UOP students to reach their potential both on and off the pitch. They have worked tirelessly to support students to achieve their personal best, offering access to personal development opportunities with a focus on volunteering and leadership. They have used their student voice to give feedback on the experience sport gives students, helping to shape the direction and development of sport at Portsmouth. 
Not only this the Team UOP Exec helped deliver key messaging around Ravelin Sports Centre to the student body and positively promote the University of Portsmouth and all it offers to students. The Team UOP Exec have been 6 of the most committed and hard-working volunteers Sport and Recreation staff have had the pleasure of working with. They have gone above and beyond their remits as volunteers to deliver life-changing experiences through sport. They embody everything that underpins Team UOP's values and they have been vital to the delivery of sport in 2021/22.
We're so pleased that the Team UOP Exec has been recognised in the prestigious Vice-Chancellor's Awards for Excellence this year. It's a testament to the amazing voluntary work of the 6 volunteers to try and make students' lives that little bit better while they're at University. Congratulations.
To find out more about this year's Team UOP Exec and Sports Clubs, follow them on Instagram.