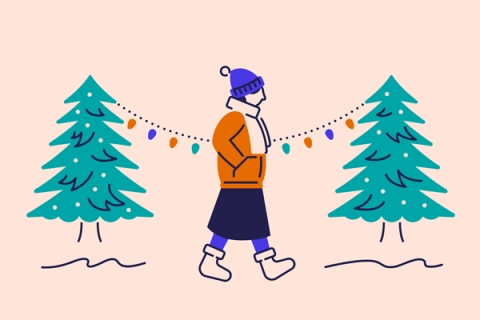 24/7 support available for students whether you're going home or staying in Portsmouth
Whether you are going home for Christmas or staying in Portsmouth, Student Space is available 24/7 over the Christmas break for students. You can contact them about anything no matter how big or small your worry may be. 

Maybe you just want to chat with someone: 
If you want to stay active during the Christmas break follow our Facebook page: UOP Sport and Recreation. Although we may not be delivering classes live, we will be sharing our favourite fitness classes daily from the last 9 months. Staying active is a great way to make you feel good, reset your mindset and burn off those mince pies.
Wherever you are spending Christmas this year, we hope that you have a joyous time. Always remember you have the support and someone to turn to at all times.
If you need more personalised support the university wellbeing service offers support in a wide range of areas and the Students Union's It's ok not to be ok campaign has a range of resources available to you as well. Here are a list of university resources that are here to help you: 
Student Wellbeing Service providing support via Skype, email and phone. Email wellbeing-admin@port.ac.uk to arrange an appointment. There are also Virtual Wellbeing Cafes held every Wednesday at 3pm GMT – contact wellbeingcafe@port.ac.uk for more details. 
WhatsUp is an app providing daily tools to promote positive mental health and connections and is available on Android and iOS.
Chaplaincy can provide support, guidance and a friendly ear. Contact the Chaplains at chaplains@port.ac.uk or +44 (0)23 9284 3030.
The Residence Life team provide support in halls of residences and can be contacted at reslife@port.ac.uk or +44 (0)23 9284 3418.
The Students' Union Advice Centre provide impartial and non-judgemental advice and can be contacted at advice@upsu.net or +44 (0)23 9284 3478.