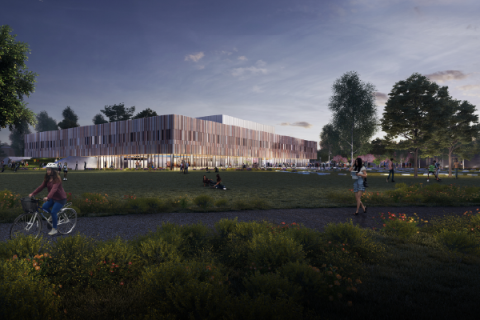 A lot of speculation has been created surrounding many aspects of Ravelin Sports Centre, so we decided to put together this article, featuring the most accurate information.
Here at the Sport and Recreation department, we are fully aware that a fair amount of time has passed since the announcement of a new sports centre being built in the city, to now. A lot has happened within that time, allowing excitement to build around the grand opening, and we couldn't be more eager to finally open the doors. However, we are also fully aware that within the time that everyone has spent anticipating each and every element surrounding Ravelin Sports Centre and a lot of room for speculation has been created. We have put together this article to provide you with the most accurate information surrounding our outstanding new sports centre and completely put to bed any false information that has been floating around. We hope this helps!
"Ravelin Sports Centre has been funded by the council."
Many new sports centres and activity facilities are often funded by multiple partners and agencies, however, this is not the case for Ravelin Sports Centre. As a facility owned solely by the university, it has been completely funded by us to ensure we can maximise the impact it will have across the University community. 


"Students have paid for Ravelin Sports Centre to be built, yet still have to pay for a membership, essentially meaning that they are paying twice."
Despite the fact that the sports centre has been funded by the university, this does not mean that students have directly paid for the new centre to be built. Value for money and affordability were critical aspects to our business plan for student usage and we have ensured that students can access the facility at the very lowest rates (from £15 a month), as we want as many students as possible to benefit from the positive impact that physical activity can have on student experience, academic performance and overall well-being whilst at university. Unfortunately, for ourselves and for most other universities it is simply not sustainable to be able to run our sports facilities and also offer our students free memberships. 


"Only students can access the new sports centre."
Although Ravelin Sports Centre is a university building, this does not mean that it is only open to staff and students. As part of our wider Civic agenda, the aim is for the facility to have a positive impact across the local community. So regardless of who you are, you will be welcomed with open arms into our outstanding sports centre.


"Once signing up for a membership at Ravelin Sports Centre, I will be tied in, unable to make changes to my chosen activity options."
This could not be further from the case. The Ravelin Sports Centre membership model has been carefully built with flexibility at its core. When you sign up for a membership at the centre, you will have options to make changes, whether you would like to upgrade your membership or switch the activities included in your membership. So, you never have to feel like you are tied into anything you don't want, and if your situation changes you can always freeze your membership and start it up when you're ready.


"I have issues using normal leisure facilities, so probably won't be able to use these either."
We aim to create positive experiences for everyone and to be as inclusive as possible, which is why Ravelin Sports Centre has a whole range of accessibility features, so everyone is made to feel welcome and included. From wheelchair access at the entrance and all around the centre, induction loops, adjustable lighting levels, easy access steps and platform access into the pool, disabled belay position to the climbing wall, an inclusive changing experience and more. We have considered everything to make sure that everyone is able to experience the benefits of physical activity at our new sports centre. Find out more about the accessibility features of Ravelin Sports Centre here.


"There is no parking at Ravelin Sports Centre."
Ravelin Sports Centre has an underground car park with around 80 spaces, which includes disabled spaces, located adjacent to the basement entrance. Parking lengths and timings will be confirmed with the opening of the Centre. However, we do encourage running, walking and cycling to reinforce the sustainable design that is at the heart of the new centre. 


"After purchasing a membership, I can just visit the centre and use all of the facilities included in my membership without booking."
To make sure that you have a great experience and we can safely manage user numbers across the facility, both members and non-members will need to book sessions before arriving at the centre. This is required for all of the activities that the centre facilitates, excluding the gym (as this area has a much higher capacity). You will need to download the UOP Sport App which will automatically register what is included in your membership and allow you to book the relevant activities at the available times. 


"You need to sign up for a membership to be able to use the facility."
Although it will work out more convenient and cost-effective for you to purchase a membership, if you are attending the centre regularly, it is not a requirement to use our facilities. We offer pay as you go options, so you can simply visit us as a one-off, or get a taste of what we offer before making your decision on whether or not you would like to sign up for a membership.


"The building has primarily been built for those who are already excelling in University sport." 
This is completely untrue. Ravelin Sports Centre welcomes everyone. Whether you are looking to play, train or compete. If you are an athlete or have never played a sport or been to the gym before, our brand new facility is for you. Everyone can benefit from being physically active regardless of previous experience or sporting ability.


"The Centre will only be open and available to use during university term time."
You'll be pleased to know that our brand new facility will only be closed for three days each year, which are: Christmas Day, Boxing Day and New Year's Day. Throughout the year you can access the facility Monday-Friday, 6.30am-10.30pm; Saturday, Sunday and bank holidays, 7.00am-9.00pm. The only other days when the opening hours differ slightly are Christmas Eve and New Year's Eve. 


"The new development will have a detrimental impact on the city of Portsmouth."
Throughout the planning, design and building stages of the Ravelin Sports Centre project, the city of Portsmouth and the local community have been carefully considered. Not only will the centre bring together the university and Portsmouth residents, but it will also positively contribute to the environment. As one of the most sustainable sports centres in the UK, Ravelin Sports Centre will positively impact fauna and biodiversity in the surrounding Ravelin Park and the building will run sustainably. Built in parkland, we've planted over 140 new trees completely redeveloping the surrounding park. Find out more about all of the sustainable features included with the centre.

We hope that this article has answered any questions you may have had surrounding our outstanding new sports centre. If you have any further questions, do not hesitate to email us at sport@port.ac.uk.