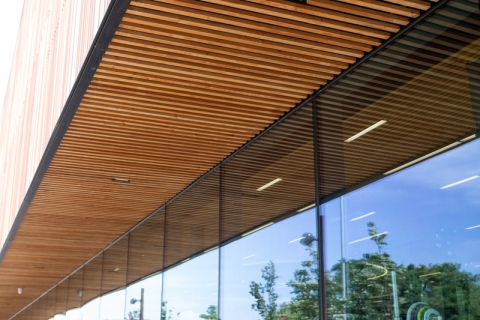 Car park management solution found with hopes to open in early 2023
Ever since we opened the doors to Ravelin Sports Centre we've had one question asked by almost everyone. Is the car park open?
We know you're interested in the developments of the Ravelin Sports Centre car park, which we have unfortunately been unable to open at this point. The car park at Ravelin Sports Centre is included in the University-wide car park management policy review. The review is complete and the management solution has been found. We're now working with our Estate's department and the car park management solution team to implement the appropriate access systems. We currently do not have a date for when the car park will open however we're hoping to get the car park open in early 2023.
Once we have any further information we will post an update here, on our website and inform all customers.
As we're sure you're aware there is both paid and time-restricted free parking a short walk away from Ravelin Sports Centre to allow you to park until the Ravelin Car Park is open.
As part of our commitment to increasing physical activity in the city we really want to encourage you to actively travel to our facilities. We know it's not always possible, but where possible we encourage as many users to actively travel to us.
Ways to actively travel to us:
Cycling - Ravelin Sports Centre has space for loads of bikes in secure, well-lit bike racks. The area around the centre has plenty of bike lanes to help you get around too. Be sure to use a strong D-lock (ideally two to secure your bike.
Walking - Most University buildings and halls are around a ten-minute walk away from Ravelin Sports Centre. The Library and Students' Union are right next door, meaning that walking to and from the centre is ideal. 
Running - Ravelin Sports Centre is situated in Ravelin Park, close to Southsea Common. The re-landscaped area around the centre is the perfect place to start or end a walk or jog.
Reasons to consider active travel
Benefits physical, mental and social health 
Reduces traffic congestion
Reduces air pollution
Reduces carbon emissions and helps us to reach net-zero carbon goals
So, not only will active travel benefit you, it will benefit the city as a whole too. Ravelin Sports Centre is one of the UK's most sustainable sports centres, so we strongly encourage you to consider the environment when travelling to and from the facility. Visit our sustainability page to find out more about the design of our outstanding sports centre.
Buses
Ravelin Sports Centre also has very convenient bus links, with bus stops just outside linking to all areas of the city.
Buses are a great way to reduce emissions in comparison to driving a car. You also never have to worry about a parking space.
Search for Ravelin Sports Centre on Google Maps and click on Transit for easy bus directions.
E-scooters
We have a number of e-scooter stations near to Ravelin Sports Centre, the closest one being on the corner of Burnaby Road, right outside HMS Temeraire and another close station on St. Michael's Road. Remember to check the rules on the Voi App before riding to ensure that you don't put yourself or others in danger. There are also two e-scooter stations right next to Langstone Sports Site, one is located at the Locksway Road end, near the Thatched House and the other at the opposite end of the bus lane, where is meets Sanderling Road.