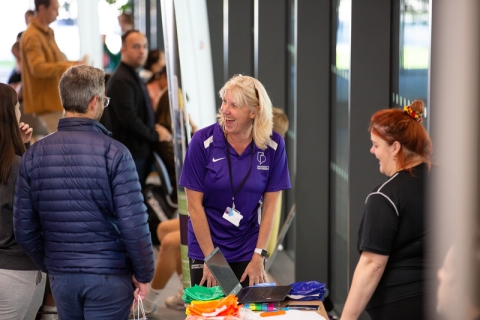 Launching our swim academy, recruiting swim instructors, working with local schools and programming the swimming pool timetable.
Since opening Ravelin Sports Centre, our staff team have been working tirelessly to ensure Ravelin Sports Centre is fit for purpose to students, staff, associates and the public including children looking to improve their swimming. The whole team have been truly amazing, often working late into the night, and running through an immense amount of training and coordination for a number of areas in order to get us to the opening day. Across the whole of Sport and Recreation, we take our roles seriously in delivering an excellent customer experience and delivering excellence to our whole customer base. 
We work across a number of different areas and are constantly looking to improve. There are times we miss the mark, but we like to think we get there most of the time. We want to let you know about the successes and triumphs and celebrate those that have excelled in their delivery.
Our Delivery Excellence Award looks to recognise staff in a wide range of areas, this is the third time it has been awarded. The bi-monthly award is nominated by staff and voted on by our management teams to determine the winner. We had a number of nominations this month with 6 staff members being recognised. Madeleine Campbell, our Swimming and Wetside Officer, is our third Delivery Excellence Award winner.
Prior to the opening of Ravelin Sport Centre Madeleine has brought her extensive knowledge of swimming pools, education and engaging children in sport to the University of Portsmouth. Since the opening of Ravelin Madeleine has gone above and beyond. Madeleine has been pivotal in creating, amending and developing our policies around the poolside. Madeleine is innovative and is always looking for ways to improve swimming activities for customers. She is often the first person in the office, the last person to leave and has also been in the majority of weekends to support the swimming lessons. 
Pivotal in not only creating our swimming pool programme, but she has also planned and managed school bookings, external club bookings, the UOP swimming club, aqua fit classes, family swimming, casual swimming, and lane swimming. On top of all of this, Madeline has worked tirelessly to set up and deliver children's swimming lessons as part of the University of Portsmouth Swim Academy. Madeleine has signed up approx 400 children for lessons and is currently working her way through a growing list of other parents expressing an interest in getting their children enrolled in swimming lessons. She is now working her way through launching our adult swimming lessons for the new year. 
Madeleine has recruited and inducted a team of approx 35 swimming instructors and is organising a level 1 course for later in the year. We're so pleased to be able to recognise Madeleine for all the work she has done, and all of the challenges she has overcome, to ensure there is a full programme of activity in the swimming pool for such a wide variety of user groups, whilst delivering a superb customer experience.
Although Madeleine is extremely busy she is always very positive and willing to help both customers and colleagues in any way possible. Without Madeleine's devotion to the department and the swimming programme, I do not think the lessons would be as popular as they are. Her commitment to her work and the success of our new facility and programs is a credit to her and we're extremely grateful for her contributions and impact. She has been a star in our team.
One thing you may not know about Madeleine is her previous sporting career. Madeleine is an Olympian and represented Great Britain in the 1992 Barcelona Olympics. It's fantastic to have such a wealth of experience within Ravelin Sports Centre and even better that she can pass her knowledge on to the next generation of budding swimmers. You never know the next Olympian may be learning to swim at the moment.
If you would like to get involved and recognise a member of staff that has positively impacted your experience with us, please leave us a comment.
We are still enrolling both children and adults in our swimming lessons currently, to find out more and register your interest, click the button.