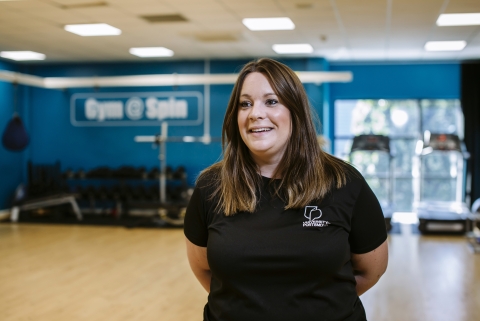 Helping to tackle social issues for students, raising over £31,000 for charity and boosting student employability.
We think our staff team are fantastic. Across the whole of Sport and Recreation, we take our roles seriously in delivering an excellent customer experience and delivering excellence to our whole customer base.

We work across a number of different areas and are constantly looking to improve, there are times we miss the mark, but we like to think we get there most of the time. We want to let you know about the successes and triumphs and celebrate those that have excelled in their delivery.

For the first time, we want to share news of our Delivery Excellence Award that looks to recognise staff in a wide range of areas. The bi-monthly award is nominated by staff and voted on by our management teams to determine the winner. We had a number of nominations this month with 12 staff members being recognised. Zoe Monk, Sports Development Officer (Student Experience), is our inaugural Delivery Excellence Award winner.
Zoe works closely with our 36 sports clubs more commonly known as Team UOP. This is the first year Zoe has recruited and managed the Team UOP Executive Committee (Team UOP Exec). The Team UOP Exec are a group of student volunteers that are responsible for the student's voice, education as well as awareness campaigns for Team UOP.

The Team UOP Exec's roles cover all aspects of sport, from competition and performance to raising the profile of sport, educating students both on and off the pitch, fundraising for national and local charities, and enhancing the University's civic footprint by contributing to the local community.

Zoe has supported and managed the Team UOP Exec to develop over 20 charity campaigns. The campaigns delivered include Movember, Green Week (mental health and wellbeing awareness), Pink Week (breast cancer awareness), Blue Week (prostate cancer awareness), the Reverse Advent Calendar (Southsea Food Bank), collecting donations for the Ukraine appeal, Easter Egg appeal for local children, White Ribbon day (to support ending violence towards women) and Rainbow Laces day (raising awareness of LGBTQ+ issues). Collectively the Team UOP Exec raised over £31,000 for local and national charities, delivered a huge amount of food and clothing donations and made a huge difference to a number of appeals.
I have thoroughly enjoyed the experience, I have used my experiences to manage, support and educate 6 student volunteers and together we have achieved so much.
Zoe guided, educated and supported them with their awareness campaign work, enabling them to create and promote over 20 awareness and educational campaigns this academic year including; Mental Health and Wellbeing, Consent, Alcohol and Anxiety, Staying Safe on a Night Out, International Women's Day, Drink Spiking and Victim Support, Loneliness at Christmas, Pride History Month, Silvercloud and Accessing the Student Wellbeing Service, and Sporting Minds.

This work has raised the profile of sport and the University by using social media and positive representation throughout these areas of work. We have built partnerships with local charities with fundraising and events such as Portsmouth Pride and beach cleans, established links with local schools by offering Team UoP students the opportunity to deliver sports coaching outreach work and also worked with local businesses to ensure they are accountable for student safety in social settings.

Coming back to campus for a full year has been challenging for the Team UOP Exec, for the first time Zoe managed multiple roles, remits and the amount the Team UOP Exec were responsible for were pretty full-on.
I am passionate about student experience - it's what motivates me to always strive for ensuring we give a positive student experience and empower our students to develop themselves, grow and reach their potential. This year coming back to campus after Covid has felt like a reset for Team UoP, managing the Exec has enabled me to set a precedent for students to develop their skills and enhance their employability. Additionally, it's developed Team UoP's community, supporting our strategic aim of building an identity of Portsmouth for life. I have thoroughly enjoyed the experience, I have used my experiences to manage, support and educate 6 student volunteers and together we have achieved so much. To date, I feel this is one of my biggest achievements in my role.
Congratulations Zoe, thoroughly well deserved.
If you would like to get involved and recognise a member of staff that has positively impacted your experience with us, please leave us a comment.