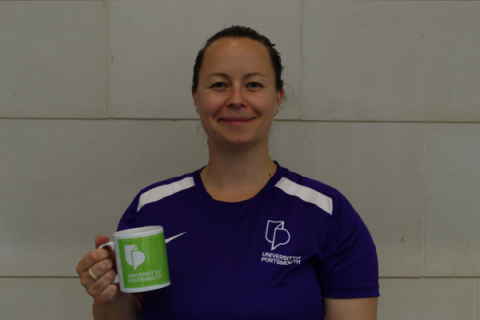 Transitioning fitness staff into Ravelin Sports Centre, supporting staff and helping colleagues.
Over the last couple of months, our staff team have been working tirelessly to ensure Ravelin Sports Centre is ready for our opening to students, staff, associates and existing members. The whole team have been truly amazing often working late into the night, and running through an immense amount of training and coordination for a number of areas in order to get us to the opening day. Across the whole of Sport and Recreation, we take our roles seriously in delivering an excellent customer experience and delivering excellence to our whole customer base.

We work across a number of different areas and are constantly looking to improve, there are times we miss the mark, but we like to think we get there most of the time. We want to let you know about the successes and triumphs and celebrate those that have excelled in their delivery.

Our Delivery Excellence Award looks to recognise staff in a wide range of areas, this is the second time it has been awarded. The bi-monthly award is nominated by staff and voted on by our management teams to determine the winner. We had a number of nominations this month with 6 staff members being recognised. Steph Slack, Health and Fitness Coordinator, is our second Delivery Excellence Award winner.
Steph has been incredibly flexible over the last couple of months supporting a range of areas and projects, we'll run through some of her highlights here. Steph's willingness to get the job done and finish essential work has been exemplary and has helped ensure our fitness offering was ready for day one.

Portsmouth City Council recently held an event on Southsea Common for the Queen's Baton relay prior to the Commonwealth Games, the event showcased sport and physical activity opportunities across the city. Our event lead caught covid on the day, Steph was really supportive and lead on the event, supporting two other staff members to engage with members of the public in our fitness challenge. Attending the event really showcased Ravelin Sports Centre prior to the opening.

Steph led and managed the transition of the fitness team into Ravelin Sports Centre. All while coordinating fitness class programmes for St. Paul's Gym among the changing opening times and shifting priorities, releasing a Ravelin Sports Centre initial class programme and long-term class programme. Due to the delays of Ravelin Sports Centre many fitness class instructors originally in place in November were now not available, so the class programme needed to be redesigned several times.

Many tasks have been approached positively by Steph. During the process of organising the removal of fitness equipment from Spinnaker Sports Centre, this led to her arranging the removal of all equipment from one of our previous homes.

Steph's positive attitude despite the numerous challenges she faces is brilliant. She leads by example, is hard-working and solution focussed and clearly has a passion for her role. She's committed to delivering high standards in her work and is particularly solution focussed, giving colleagues support and helping others where she can.

Steph has been integral in the health and fitness preparation and the smooth transition of fitness classes and equipment into Ravelin Sports Centre. Her professionalism and willingness to provide information and answers in a quick manner make her easy to work with.

Well done Steph.
If you would like to get involved and recognise a member of staff that has positively impacted your experience with us, please leave us a comment.