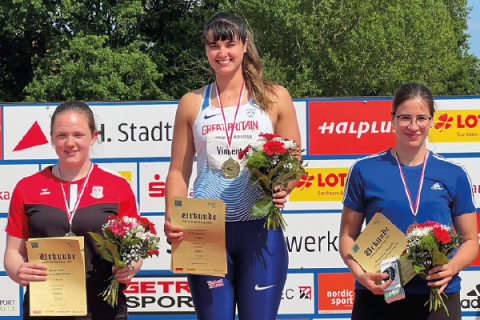 Our dedicated sport scholars continue to shine at national and international events.
ummer has arrived and lots of our Sport Scholars are travelling far and wide to compete. Here is an update on their latest successes. 
International events
Serena Vincent travelled to Hallé, Germany to participate in the Hallesche Werfertage Shot Put competition and won the event with a throw of 16.28m. Serena has continued to build on this success and has become the Southern England Senior Champion with a new personal best throw of 16.36m. 

Emily Niven, travelled to the Netherlands for her first international competition since the pandemic, bringing back a gold medal in Judo from the Mierlo Senior International. Emily is travelling again in July to represent the University of Portsmouth at the European University Games in Poland.

Joining Emily in Poland, will be Ericas Luckauskas who is also continuing his excellent preparation for the event by qualifying to represent England U21's in the Taekwondo Euros in Albania in October. Ericas has won two silver medals in the selection events to earn the right to compete internationally.

Taylor Lei-Mohan competed in the BMX European Cup Races for the first time, racing in both the Netherlands and in Germany. The European Cup is a big step up for an athlete and we are delighted that Taylor finished 2nd in Stuttgart. Taylor is also winning the National Series in her category with a 30 point lead. She is now looking forward to the World Championships in Paris next month.

Rounding off our international events, Will Grace competed in his first full Ironman in Hamburg, finishing 12th, you can read more about his experience. Emily Beach competed in a badminton tournament in Austria, which sadly was cut short due to an eye injury, but in more positive news, Emily recently made it to the quarter final of the Hampshire Senior Gold event.
National events
Back in the UK, Simon Hall has a busy sailing schedule and recently finished 3rd in the youth category of the South Coast World Championships and Lloyd Collins-page won the 3p University British Championships in the 50m rifle at Bisley. Harry Gadd's summer cricket season with Havant Cricket Club is well underway, and he recently scored 135 runs against Bournemouth, the highest score so far in the SPL Premier in 2022. Havant are currently third in their league.

Lucy Odell came second in the javelin at the Southern England Championships with a throw of 40.32m. Lucy overcame a tough start to the competition but showed fantastic mental resilience to finish 2nd overall. Jon White is back on the track in the 800m, winning both the BMC Grand Prix and the Watford Open Graded Meeting with a season's best time of 1.50.79. Jon is now looking ahead to the England Championships taking place in July. Finally, a special shout out to Denesha Rocastle who after spending several months rehabbing an injury in the gym has made her comeback in the triple jump, competing in the Southern Athletics League with a jump of 11.62m. Denesha has a summer full of competitions and we cannot wait to watch her progress!