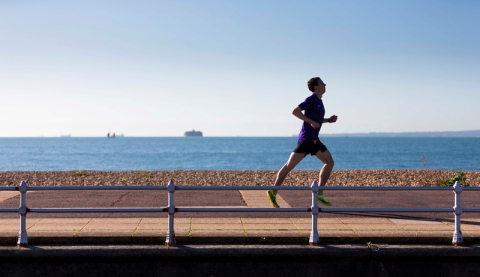 A limited number of tickets are now on sale at the discounted rate and will be sold on a first come first serve basis.
The world-famous Great South run returns to the historic streets of Portsmouth on 15 and 16 October, and you can be a part of the action!

We've partnered with the Great South Run with an exclusive offer for our students, staff, and alumni we're offering an awesome 20% student discount off the original entry price. That means you can grab a great deal and enter the renowned Great South Run 10-mile event for just £37. Currently, entries are £46 for the event so it's a great saving.

This must-do event starts and finishes on the glorious seafront, with salty air and incredible scenery guaranteed. Get ready to be inspired every step of the way as you pass Portsmouth's Historic Dockyard, HMS Victory, Southsea Castle and see the stunning views out to sea towards the Isle of Wight. 

It is shaping up to be an action-packed celebration of running and all the best parts of Portsmouth. Well-known for its stunning views, buzzing atmosphere, and some of the biggest (and loudest!) crowd support, the city comes alive on Great South Run weekend.

So many people from all different backgrounds and of all different abilities get involved, so whether you're an avid runner, or you've never ran before, everyone is welcome. Participants take part for all different reasons, you might be looking to compete against others and your own personal bests, promote a worthy cause, have a bit of fun, or you've always wanted to start running, now is the perfect time to get involved in the most famous 10-mile run for almost 30 years. 

There's still plenty of time to train and prepare yourself for the event, and our Health and Fitness team are here to answer any questions you may have regarding preparing for the run. The Great South Run will provide all runners with training plans, advice and motivation and race day prep to help you to prepare your body and your mind in the right way. As well as this, our Health and Fitness team have put together a12-week course to cater for all abilities of runners and walkers. Of course, all of these are optional, but they will undoubtedly provide you with training completely relevant to you and perfectly equip you for the run. 

Ravelin Sports Centre will undoubtedly offer a fantastic setting to start your training, you'll pass the new facility during the run and you'll be able to use the shower and changing facilities on the day after the run before you start your celebrations with your finishers t-shirt and medal. Set yourself the challenge whether you're new to running or just looking to make your pre-season that little bit easier by staying active over the summer.

We are here to ensure you to achieve your goals, provide a sense of community and help to get you across the finish line, while cheering you along the way. There's nothing quite like the feeling of being part of a team and putting on your finishers' medal and t-shirt, so join the University of Portsmouth team now! Places are limited so sign up now to make sure you don't miss out on an unforgettable day.