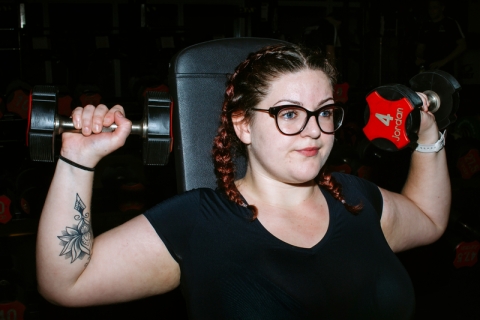 Use St. Paul's Gym for free until 23 December
After the recent lockdown, St. Paul's Gym is open. We are adjusting our opening hours until 23 December and will be open Monday-Friday, 9am-5pm, however, on Friday 18 and Wednesday 23 December we will be closing at 12pm in line with the rest of the university. We will be closed on weekends and between the 23 December and the 3 January - reopening our doors on Monday 4 January.
Like our building, innovation, sustainability and design are at the heart of Technogym's offer and we know that the equipment will provide the highest possible customer experience.
We recognise there are not that many opportunities for students happening at the moment and we recognise the value of physical activity especially during the winter months. We would therefore like to invite all students to come and workout on us, whether you are a member or not, until Wednesday 23 December.
For those staying in Portsmouth, we hope this gives you a way to stay active without breaking the bank. Think of it as an early Christmas present.
To access the gym, follow these easy steps:
Download our UOP Sport mobile app from the app store or google play.
Book a gym session using the Gym Bookings tile within the app.
Register for an account if you haven't used our services before. After registration, you'll be sent a booking PIN to allow you to log in and book on the app. You can also register online and book online too.
Read our COVID guidelines before arriving at St. Paul's Gym.
Head to St. Paul's Gym with your student card and visit reception.
Enjoy your workout.
To keep you active over the Christmas closure period, we'll be revisiting our favourite Facebook Live workouts and posting them daily to give you the opportunity to stay active. To get involved in the sessions, simply give us a like on our UOP Sport Facebook page.
Win a £50 Amazon Voucher before Christmas
In summer 2021 we'll be opening Ravelin Sports Centre and would love to hear your thoughts on our proposed membership options, what motivates you to exercise and how COVID has affected your exercise habits. Share your thoughts with us and be entered into a prize draw to win one of three Amazon vouchers, and if you're the lucky winner receive it on Friday 18 December.