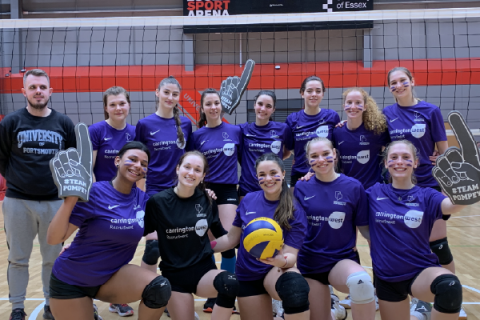 Our student-athletes pushed us up the BUCS table this week with wins at the BUCS Conference Finals.
Seven of our teams competed against other universities in the BUCS South Eastern Conference Finals. This knockout competition began back in October and we are so proud that so many of our teams managed to reach the last hurdle. The University of Essex hosted 30 finals, featuring six of our clubs (Golf competed at home) in a whole range of different sports on Wednesday 9 March, with fixtures taking place from midday to 10pm.
Our teams that qualified for the finals were Golf,  Men's Football 1s, Women's Squash, Women's Volleyball, Men's Rugby 3s, Netball 1s and Basketball Men's 1s. Not only did some of our teams make it to the finals, but they also managed to win! Adding to the University of Portsmouth medal collection whilst also overtaking Southampton, our Varsity rivals, in the overall BUCS table. 
Our student-athletes have been incredibly busy training hard to achieve the best outcome at the BUCS Conference Finals and Varsity this weekend. Their hard work and dedication to their sports definitely paid off. Our winning teams include Women's Volleyball, our Men's Basketball 1s team, Netball, Men's Rugby 3s. Giving us a total of four gold medals! After witnessing the hours that our clubs put into training and the dedication they have to their teams and their sport, they are extremely deserving winners. The results are listed below.
Results
Women's Squash: Runners Up
Men's Golf: Runners Up
Men's Football 1s: Runners Up
Women's Volleyball: Champions with a 3-0 win against University of the Arts London
Netball 1s: Champions with a 40-23 win against King's College London
Men's Basketball 1s: Champions with a 75-51 win against Kingston University
Men's Rugby 3s: Champions with a 14-12 win against St. Mary's University.
Special mention to Luke Stallard, kicking the winning penalty to secure the Rugby victory at the end of the match.
We spoke to the president of the UOP Volleyball team after their win to capture her thoughts and feelings after such a successful few months.
I am so proud of my girls and all the effort they put in this year to get us promoted to 1st Division and now we can call ourselves Champions too!
As well as our sports clubs travelling to Essex, they took with them a number of spectators including friends, family and members of the Department of Sport and Recreation. The Sport and Rec team is understandably ecstatic with the results and so glad that they got to witness our student's success first hand and cheer them on the whole way.
A great way to top off a fabulous year. Four trophy wins from teams that have come on leaps and bounds this year. Can't wait to see their successes next year!
This is definitely a great boost for all of our sports clubs, going into Varsity weekend where the University of Portsmouth takes on rivals University of Southampton. A lot is at stake this weekend as our wins at the BUCS Conference Finals have put us just above Southampton in the overall BUCS table. With just one space separating Portsmouth and Southampton, we are in great form heading into Varsity this weekend and hope to bring the cup back to Portsmouth for the first time since 2013. There are still tickets available if you missed the chance last month, with daily wristbands on sale for £10 per day. Wristbands include access to all fixtures and Varsity Village on either Saturday or Sunday. You can get your wristband in Spinnaker Sports Centre between 10.00am-4.00pm tomorrow (Friday 11 March) or from St. Paul's Gym between 8.30am-3.00pm on Saturday and Sunday. 
It seems as though we have said it a lot recently, but we really couldn't be prouder of our sports clubs and all that they have achieved. We hope that these successes will help to drive our clubs in the future and they will go on to not only achieve in their sports but also make the most of their time competing in university sport and enjoy it to the fullest.
Have our recent BUCS successes inspired you to get involved in our sports clubs? You can find out everything you need to know on our club pages.