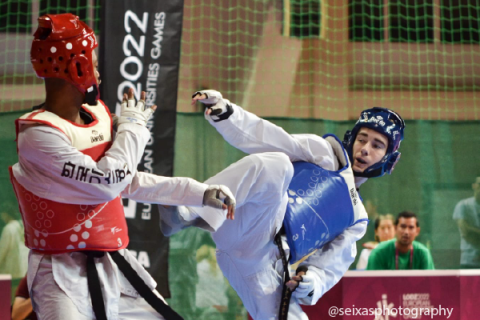 Find out how our sports scholars got on at international competitions.
Recently three of our Sport Scholars competed internationally. Emily Niven (Judo) and Ericas Luckauskas (Taekwondo) competed in the European University Games in Poland. Entry to this competition is gained by winning an individual BUCS event, so athletes at these games are the best in their category in the country of their university. Here is a little snippet of their experiences:
Emily Niven's Recap of European University Games
Competing at the European University Games was such a great experience. I'm used to competing abroad but never at an international multi-sport event of this scale. I was a bit nervous ahead of the competition but thanks to the support of my coach, Jo Crowley, my club (Ealing Judo Club), and the UoP scholar program leading up to the games, I knew that I was as prepared as I could be. I fought opponents from Belgium, Turkey, Poland, and France, and overall was happy with my performance. I pulled off a new strangle that I had been working on so I can see that training is paying off, but there were also things that I could have done better and will continue to work on. It was a tough competition so the GB judo team didn't manage to bring home any medals, but this is definitely a goal for next year if I retain my BUCS title and qualify for the European University Championships. I'm really enjoying competing abroad again since the pandemic and this experience has made me even more determined to push myself to see what I can achieve.
Ericas Luckauskas Recap of European University Games
At first I wasn't sure what to expect from the European University Games. After experiencing it I know now that the standard across universities in Europe is very high and very similar to regular international ranked competitions. I won my first fight of the competition however, unfortunately lost in my quarter finals to the Ukrainian who won my category in the end. Overall I had a great time and got some valuable experience fighting a top 50 athlete in the world in my category. I also got the chance to explore the city centre which was great and always packed with people. Looking forward to what's next for me, I'm currently training and preparing to represent Great Britain for the U21 European championships in Albania this September.
The BMX World Championships took place in Nantes, Paris this summer, with Taylor competing in her toughest competition of the year. The quality in this tournament was going to be a level higher than what Taylor is used to competing with, but she went into the competition aiming to reach the quarter finals. Here is how it went:
Taylor-Lei Mohan's Recap of the BMX World Championships
The past few months for me have been very busy with so much international and national racing, culminating in competing at the BMX World championships in Nantes, France. The overall experience was great and being on the international stage was vibrant with so many countries and cultures coming together. I felt very confident whilst competing with consistent results throughout the day unfortunately a crash in my 1/4 final ended my day which I was gutted with but I know what to do for next year's BMX World Championships in Glasgow and aim for a place in the final. I also enjoyed the support off the track with members of Sport and Recreation tuning in on my races via live stream and encouraging me after every race. My goals for next year are to compete in all the European cup rounds, nationals and the worlds with the aim of placing top 5 in euros, top 8 in Europe and top 3 in nationals.
We are so proud of what these three athletes have achieved this season. It has been a busy calendar for them all, with lots of competitions, training and balancing the completion of their work placements or university work. All three have committed to their training programmes and have engaged with the lifestyle support workshops the scholarship programme offers. You can see the benefits of their commitment to their training in their results. We are really excited to see their progress next season!
If you are a high performing athlete and are interested in becoming a Sports Scholar for the 2022/2023 academic year, you can find further information on our website, plus the application form. All applications must be submitted by Wednesday 31st August.