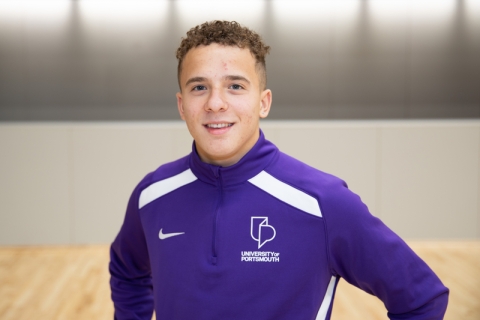 He will be representing the country at the Northern Europe Gymnastics competition in Finland this November.
Sports Science student and UOP Sport Scholar Fin Morgan (19) has received his first England call up. He will be representing the country at the Northern Europe Gymnastics competition in Finland this November. 
Fin was confident of his chances of making a place on the team, after putting in a personal best performance and picking up a third place finish at the national trials held in Manchester this September. 
This was the first time that he had been invited to a trial for England. In the past Fin has said that he has gone into competitions underprepared having not been able to spend enough time in the gym. However this year Fin was at top of his game after completing a summer's training at Portsmouth Gymnastics Club. On his training Fin said "For once I 100% applied myself and put in all my effort and time" and added "knowing that I put in the hard work was a really nice feeling". 
Fin is an all round gymnast  as he is able to contest every piece of apparatus in the competition. His personal aim is to make the final of at least one apparatus at the finals later this year. 
Fin is also captain of the University of Portsmouth Gymnastics team, where he has been helping to train new students who have never tried the sport before, "It is something I thoroughly enjoy, getting other students involved" and has given him a "new love" for the sport. The gymnastics club welcomes new members of all abilities and experience.  
Fin will also be competing over the next 5 weekends in the German Bundesliga for Frankfurt based team TVW 1889. 
All of this combined with starting his second year of Sport and Exercise Science at Portsmouth has raised some concerns of burn out. However Fin is managing his work load well. 
As a sports scholar at the University, Fin receives access to the new Ravelin Sports Centre. Where he spoke of the benefits of the new pool, sauna and steam room and how these have helped decrease his recovery time, "after a long session in the gym I go in the swimming pool and sauna and the next day I wake up feeling really well recovered".
The new centre has brought with it a plethora of other benefits. Sports scholars can now access a specialist physio clinic, for both emergencies and fortnightly check-ups. The university also provides Fin with a personal strength and conditioning coach. Both of which have become invaluable to a student with a busy high-performance schedule. The sports scholarship bursary is another way that Fin is allowed to achieve his best by financially allowing him to focus on sport and study full time. 
Fin has also indulged in new activities away from Gymnastics, as he was pictured tackling the state of the art new rock wall at the opening of Ravelin Sports Centre, saying "the whole point of uni is getting to experience new things, Ravelin Sports Centre allows you to do that". 
At just 19 years old there is still plenty of potential for Fin as he embarks on his first international tournament next month.
Interview and article by Stephen Pinhorne, Journalism student
If you feel inspired by this story, you can apply for our scholarship programme for the 23/24 academic year.